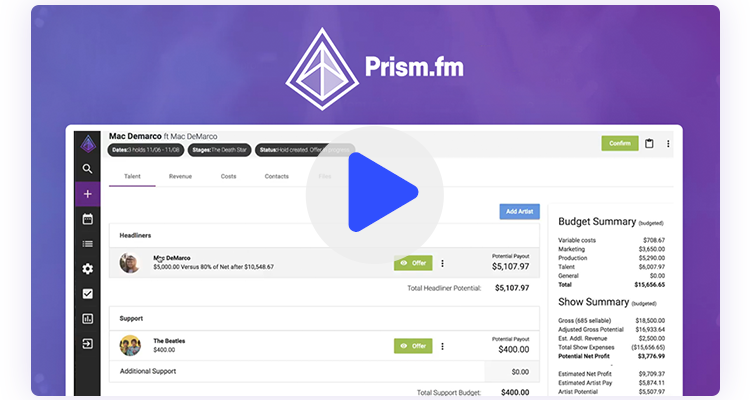 Austin-based music promoter software company Prism has secured a new round of funding from angel investors.
More than $2.2 million was raised from a number of different investors, including Mario Fighali of Sparefoot, Bill Babel of Capital Factory, Kip McClanahan of Pershing, and Jay Jensen of Clasen Quality Coatings.  The company shared the round with Digital Music News this week.
Prism expects to use the new round of seed funding to expand its research and development efforts.  Prism's sales and marketing efforts will also be increased to help solidify its position in the industry.
So what problem is Prism trying to fix, exactly?
Prism CEO Matt Ford says Prism is the best solution for live music because it's the only "end-to-end solution for live music organizers."
Prim was founded by Ford, Stephen Sternschein, and Adrian Tavares.  Prism arose directly from Sternschein's tenure as a venue owner and promoter and his experience with the industry's bevy of half-baked, partial 'solutions'.
"Having data in a dozen different places created an accounting nightmare, making it difficult and time-consuming to generate actionable insights. The inefficiency in communicating details cost me time and money. This is why we built a Prism."
Prism offers calendar management, one-click integrations with ticketing platforms, offer generation, budgeting, forecasting, revenue tracking, settlement, task management systems, and financial reporting in one package.
Venue managers, promoters and talent buyers can leverage a solution that brings all of these under a single umbrella to automate booking for better efficiency.
Prism's software has been adopted by over 100 promoters and 500 venues across the world.
Some prominent adopters include Brooklyn Bowl (NY), Ad Hoc (NY), PopGun Presents (NY), MOKB Presents (IL), Noise Pop (SF), McMenamin's (OR), and Laramir Lounge (CO).
Hometown adopters of Prism include The Paramount Theatre, Antone's Come and Take It Productions, Empire Control Room and Garage, Vulcan Gas Company, and several others.