If you're a music lover, you're probably looking to store your music collection on an excellent cloud storage service.
The following article comes from pCloud, a proud partner of DMN.
When you're looking for the best places to store your music online, some of the points you'll need to consider include fast uploads, affordable pricing, and generous storage capacity.
In the end, exactly which cloud storage provider you choose for storing your music files depends upon your personal preference.
Cloud storage enables you to have access to your favorite music from anywhere, anytime, on any device.  If you have a huge volume of files that you love, a cloud service is always a preferred option.
Considering these features, below are some of the best options for storing your music online.
pCloud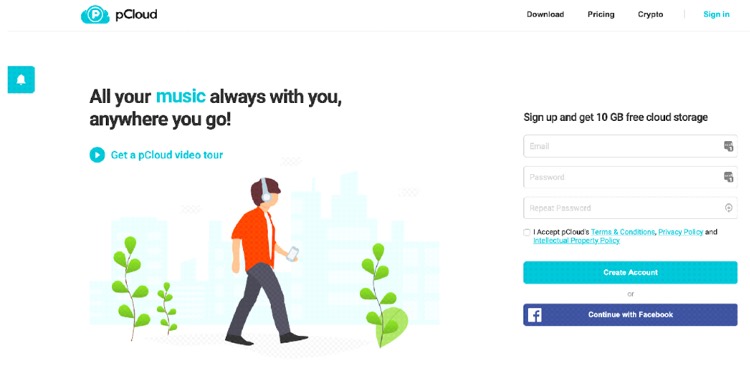 The pCloud cloud storage service is perhaps the hot favorite for most music lovers out there.
It offers several excellent features like music playback functionality, a robust sharing mechanism, and a reasonable degree of free storage space as well.
All these factors make pCloud an excellent choice.
The service can detect and sort all your audio files in zippy and play them for you.  It also offers you an embedded music player for playing your music files, without the need for additional plugins.
With pCloud, you can upload an entire folder of music in an instant.  This helps you quickly store large chunks of music files all at once.
If you're looking for sharing options for your files, you'll find that pCloud offers you excellent functionality.  You can share specific files or even an entire album.
You'll get 10 GB of storage space under the free plan.  This includes all file types and not just music.  But if you think this storage level isn't enough space for you, a number of other affordable plans are also available.
The pricing plans range from only $4.99 a month for 500 GB to $9.99 for 2 TB of storage.  The lifetime options for these plans are a great value for your money, and one of the lowest in the industry.  The upload speeds are impressive and peak out at 5 GB per second.
Google Play Music
Google Play Music lets you upload your favorite music and play it from anywhere.
The service works through your Google account once you upload your music files.  It features a unique concept for determining the space through the number of files instead of the file sizes themselves.
You can upload up to 50,000 tracks to the service and stream them from anywhere you want.  It even works with Chromecast, so you can easily play the music through your Chromecast-enabled devices.  You can also stream from radio stations and listen to podcasts.
The music you upload to the service is cataloged based on the artists and playlists you've created.  If you're using it on Chrome, it installs a mini player to stream your music.
One of the excellent features we liked about Google Play Music is that it can retain deleted tracks for 30 days before removing them permanently.  So you can always restore the files if you want to get them back.
While the app can be used through the web portal, it also has mobile apps for Android and iOS platforms.
MediaFire
MediaFire may not be the standard for storing your music files, as it lacks a few critical features expected from standard cloud storage services.
But it does offer generous cloud storage, affordable pricing, and excellent support for mobile devices.
MediaFire claims over 43 million registered users.  You have access to 10 GB of storage under free option.  You can also get more space by referring friends, installing a few mobile apps, and sharing on Twitter and Facebook.
If you are opting for their Pro subscription, you get a whopping 1 TB storage for just $5 a month (which comes to $3.75 a month if you pay annually).  MediaFire offers a discount on yearly subscriptions throughout.
MediaFire doesn't offer any high-end performance when it comes to upload and download speeds, but you'll get very steady performance.
One big downside: the service doesn't let you upload an entire album or folder.  You'll need to upload files one-by-one, manually, which will obviously slow things down a little.
That issue aside, the interface is pretty easy to work with.  MediaFire's drag-and-drop feature makes it an excellent choice for enhanced performance.
Mega
Based in New Zealand, Mega offers you an excellent zero-knowledge encryption feature for your music files.
Of course, there's no advanced playback option available on the service. But, Mega compensates for that deficiency with a whopping 50 GB of storage for free when you sign up.
However, you'll need to upgrade to Pro if you want more storage space or any add-on features.
The fact that the entire cloud storage service is built around security and privacy makes it a formidable choice for storing your music.
While upload speeds are excellent, you can keep tabs on the bandwidth usage for uploads if you want.  MEGA also has specialized apps specifically designed for iOS, Android, Mac, and Windows as well.
The service also lets you share your music online, with or without the decryption key.  The support channels aren't quite up-to-the-mark, however, at least according to online reviews.
However, we didn't come across many issue.  You can share the content through links or invites, and if you opt for their Pro subscription plan, you can also configure and set expiration dates for the links.
Conclusion
These were some of the best options for storing your music online using cloud storage.  Needless to say, each of these services come with their own set of advantages, though pCloud beats expectations and offers an overall excellent cloud storage service.
The affordable pricing, an intuitive interface and plenty of plan options make it a great alternative to almost all the services outlined in this compilation.
While pCloud remains our favorite, which among the other services outlined in this compilation appeal to you the most?  Please share your opinions and experiences with the services that you prefer.