Note to self – don't head to Ultra Music Festival 2020.
Long waiting lines.  An idyllic beachside setting.  More than 50,000 festivalgoers stranded on an island, waiting to leave.
No, this wasn't the Fyre Festival disaster two years ago.  This was the logistical failure of the Ultra Music Festival last Saturday.  Organizers have now issued a formal apology after the failure led to the 2 a.m. meltdown.
On social media, users quickly posted images and videos showing angry, desperate, and furious festivalgoers walking the Rickenbacker Causeway, from the island of Virginia Key to the center of Miami.
Held for the first time on the island, Ultra Music Festival organizers struggled to get fans aboard the 200 buses prepared for the trip to Miami after the first night.  The only problem: festivalgoers had to walk over three miles to get on the shuttles.
According to a separate report, as festivalgoers walked across the causeway, a tree caught fire.
The logistical failure led many fans to dub the Ultra Music Festival as 'Fyre Festival 2.'
One fan wrote,
"@ultra almost feels like #FyreFestival #Ultra and it's only day 1."
Another added,
"@ultra you have 30k people doing a 5k walk back to the mainland.  This has to be sorted for tomorrow!  #fyrefestival2  #fail."
In a formal apology posted on Instagram, the Ultra Music Festival lamented,
"Many of you experienced challenging transportation conditions leaving the festival.

"This is unacceptable and inconsistent with the high standards you have come to expect from us.  For this, we're sorry."
Adding that it has worked with the city and county partners to avoid further issues, Ultra organizers concluded,
"We look forward to offering you a significantly improved transportation experience today and throughout the weekend, and we appreciate the opportunity to earn back your confidence and trust."
On the festival's second night, the event ended with a more organized approach.  Ultra had reorganized traffic lines to facilitate exits.  People quickly left the island without a problem.
You can view the apology below.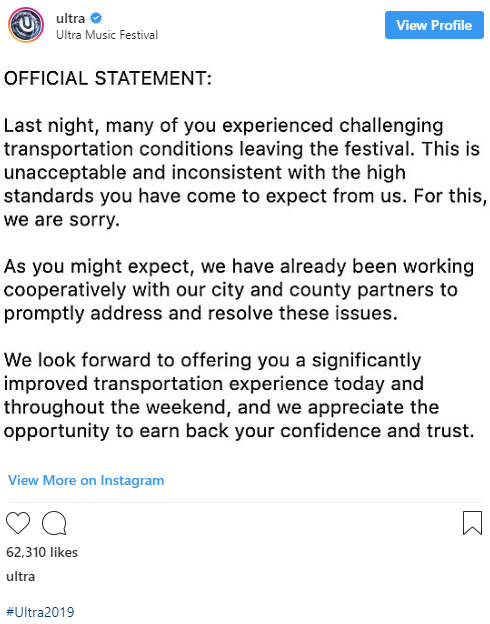 ---
Featured image by Cata Greer (Posted on Twitter).