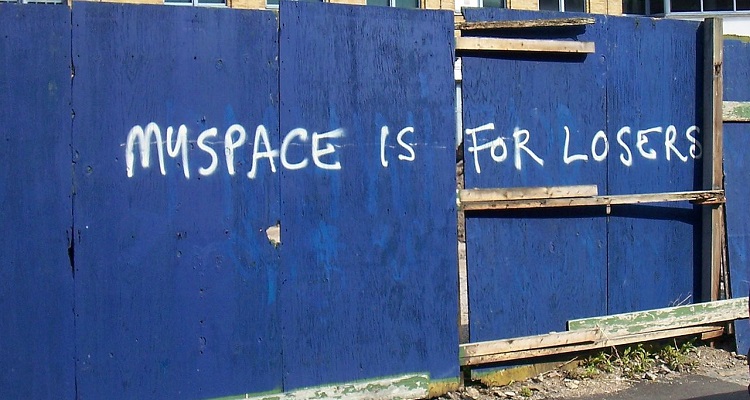 An internet archive page has managed to fix MySpace's grievous error.  Somewhat, at least.
Several weeks ago, MySpace committed a major blunder.
Pinning the blame on a "server migration project," the once-popular social media platform lost all uploaded music prior to 2015.  That's around 50 million songs by 14 million artists.
The company explained,
"As a result of a server migration project, any photos, videos, and audio files you uploaded more than three years ago may no longer be available on or from Myspace.

"We apologize for the inconvenience and suggest that you retain your back up copies."
MySpace had failed to acknowledge the issue until several weeks ago, when multiple indie artists found they were unable to play their old songs uploaded between 2003 and 2015.
Receiving a confirmation e-mail from the company about the major mishap, tech reporter Andy Baio explained,
"I'm deeply skeptical this was an accident.

"Flagrant incompetence may be bad PR, but it still sounds better than 'we can't be bothered with the effort and cost of migrating and hosting 50 million old MP3s.'"
Now, one website claims it has managed to save at least some of those lost songs.
The Internet Archive saves the day, no thanks to MySpace.
According to a new report, The Internet Archive has salvaged a large collection of previously lost tracks.
Dubbed the 'MySpace Dragon Hoard,' the collection contains around 490,000 MP3s.  An anonymous academic group reportedly 'grabbed' – i.e., downloaded – around 1.3 terabytes of music from the social media platform between 2008 and 2010.
Several artists remained absolutely delighted about the discovery.  One user on Twitter – @pinkpushpop – unearthed early clips featuring Katy Perry, Nicki Minaj, and Donald Glover.
To help other artists and users browse through the findings, The Internet Archive has created a separate page.
The website explains,
"A wide-ranging collection of 490,000 mp3 files from MySpace.com, accomplished using unknown means by an anonymous academic study conducted between 2008 and 2010.

"These files are arranged by the filenames assigned by MySpace's Content Delivery Network, the key of which is in the metadata.tsv file in this collection.  MD5 and SHA hashes are also provided from the original project, and included in the main directory."
Meanwhile, the social media platform has remained unnervingly quiet on the issue following its PR statement.
You can view The MySpace Dragon Hoard here.
---
Featured image by bitterjug (CC by 2.0).