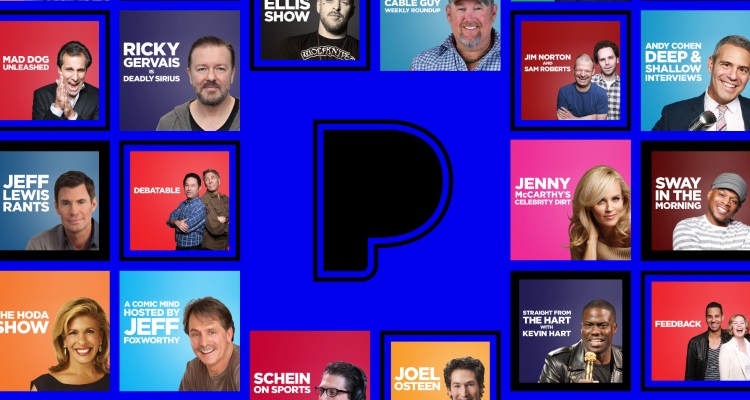 SiriusXM is launching 22 new podcasts for Pandora and SiriusXM subscribers. The new podcasts repurpose many of SiriusXM's most popular shows.
SiriusXM finished its acquisition of Pandora just three months ago in a deal valued at $3.5 billion. These new podcasts are the satellite radio provider's first steps to highlighting content using Pandora.
It also gives Pandora a bevy of exclusive content to rival Spotify's own podcast exclusives.
Spotify announced it plans to spend up to $500 million on podcasting this year, mostly to secure exclusive content.
But SiriusXM pledged last month to deliver new, world-class content to Pandora users. All 22 of the new shows are available on the new Podcasts on Pandora tab starting today.
New Sirius XM Shows Available as Pandora Podcasts
Andy Cohen's Deep & Shallow Interviews
Jenny McCarthy's Celebrity Dirt
The Jason Ellis Show
The Hoda Show
Straight from The Hart with Kevin Hart
Ricky Gervais Is Deadly Sirius
Larry the Cable Guy Weekly Roundup
A Comic Mind Hosted by Jeff Foxworthy
Jim Norton & Sam Roberts
Trunk Nation with Eddie Trunk
Debatable with Mark Goodman and Alan Light
Feedback with Nik Carter and Lori Majewski
Mad Dog Unleashed
Schein on Sports
Busted Open
This new podcast push is the first content offering available exclusively to both Pandora and SiriusXM listeners. The move thrusts Pandora into the mix for exclusive podcast content, which has become lucrative in the last few years.
Meanwhile, Spotify has been working overtime to make itself the 'go-to-destination' for podcast listeners.
The company has already spent more than $300 million to acquire podcast content.  That includes the acquisition of a company behind an app that enables easy grassroots podcast creation.  Right now, Anchor offers one-click distribution to a variety of platforms, though Spotify could become the exclusive delivery endpoint.
With podcasts estimated to bring in $659 million in ad revenue by 2020, the strategy makes sense.