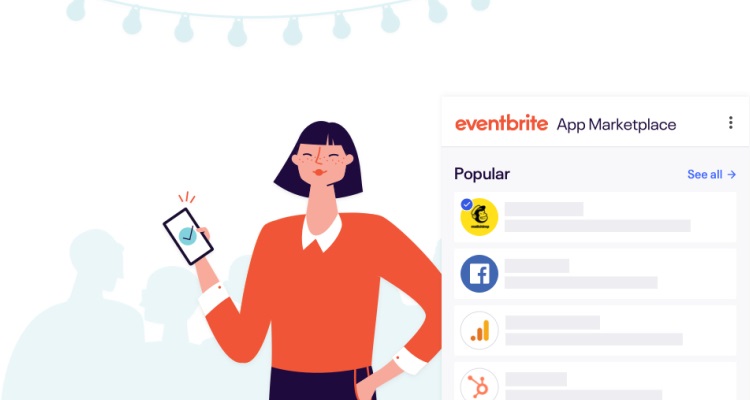 Eventbrite has launched its new app marketplace with over 100 vetted apps for event creators.
All of the apps featured in the new Eventbrite App Marketplace work within the Eventbrite platform.  Event creators can extend and tailor their event using these apps to create a better end-user experience.
Eventbrite says the new App Marketplace is the next iteration of Eventbrite Spectrum.
Some examples of apps featured in the new marketplace include:
Gift Up! – A new way for creators to sell gift cards on their website or for events listed on Eventbrite.
Constant Contact – Build professional emails, promote events, track registrations, and send follow-up emails to attendees with the help of Constant Contact. It features a variety of robust email templating options and a drag-and-drop email creator.
Lennd – Lennd helps event creators manage credentials and ticket requests for vendors, sponsors, artists, media, and staff. Special requests and approvals to the event can be handled with ease.
Prism – Prism simplifies the process of booking live music and comedy shows, managing rooms, and tours.
In addition to these integrations, the Eventbrite app marketplace also supports Facebook, MailChimp, ToneDen, HubSpot, and Survey Monkey.
Eventbrite says that beyond the fresh coat of paint, the interface has been re-designed from the ground up.  It is now easier for creators to discover apps.  Revamped documentation and guides now make it easier to find help, which is a boon to those new to digital event organization.
Event organizers and creators can now custom-tailor their event, which helps events create custom registrations.
The new changes to the marketplace should make it easier to use Eventbrite with other services. That's mostly thanks to the Eventbrite API, which allows integration with multiple third-party platforms.  So far, app developers have found the API to be well-documented with good support, which means easy integration with other apps.