Spotify's partnership with Genius to provide 'Behind the Lyrics' information is resulting in flat-out 'lies,' according to Hayley Williams of Paramore.
The singer took her frustration with the situation to Twitter, where she addressed the company directly. Her series of tweets says her management team has been trying to get information on 'Behind the Lyrics' changed for over a year.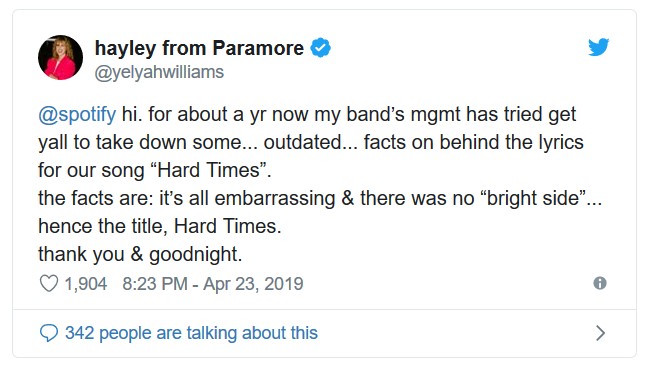 Hayley followed up by saying she loves Spotify but doesn't want "folx subjected to some lies while listenin to the truest & purist of pmore albums."
After the tweets went viral, Genius reached out to Paramore's management team and label.  Sadly, a public Twitter-shaming was the only way to get a response, suggesting that other artists may be struggling with misinformation on the service.
Now, Hayley Williams and Genius are working to update the Behind the Lyrics information, though fans should probably treat Genius factoids with a bit more caution going forward.
The brouhaha raises the question: should streaming services engage in these types of partnerships?  Spotify sources its music directly from the artists and their labels, but behind the scenes facts from a third-party service?  What's more, it took a public complaint after a year of trying to fix the error behind the scenes, with Spotify getting egg on its face.
Hayley Williams shouldn't have had to blast Spotify on Twitter to make changes.
Anything included in a streaming app should be verified before being disseminated as the truth, or at least dealt with when a complaint arises.
Since the incident occurred, fans are now pointing out other occasions in which Genius' information about lyrics are wrong.  Two quick examples: