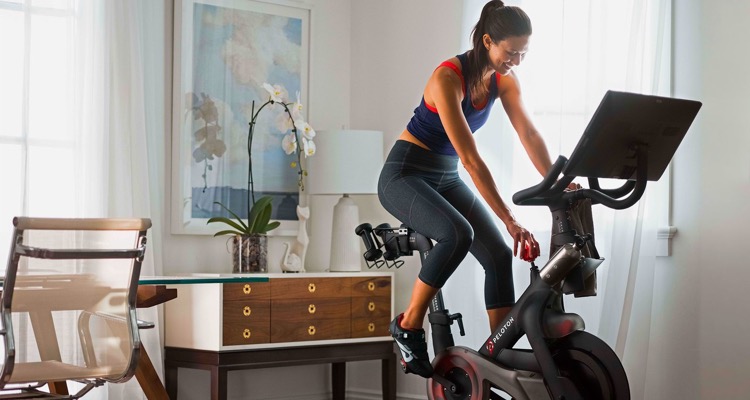 Looks like major music publishers are in for a serious legal workout.
Just weeks after being accused of massive copyright infringement, fitness-focused Peloton is clapping back against a large number of litigating music publishers.  And they're spinning an unexpected defense strategy.
The company, which is focused on sophisticated, higher-end exercise equipment and classes, was saddled with a massive copyright infringement lawsuit back in March.  The litigation, filed by the National Music Publishers' Association (NMPA), alleged damages in the range of $150 million, which prompted the spin-focused tech company to immediately pull a number of classes with problematic background music.
But now, Peloton says it isn't infringing.  In fact, Peloton's attorneys are claiming the exact opposite.  Instead of skirting royalties, the company says it's paying all major music publishers, indie publishers, and PROs as required by law.  "Peloton is not the bad actor that Plaintiffs portray it to be," the company's filing states.
"Peloton values the musical element of its service offering and respects — and pays — the music rightsholders associated with that offering."
But if that's the case, what's the $150 million kerfuffle all about?
Here's where Peloton may have a few creative interpretations of how music licensing works.  In its filing, the company claims that traditional synchronization licensing is ill-suited to its fast-paced business model, which often involves on-the-fly classes arranged just hours in advance.
The company also pointed to its recent acquisition of Neurotic Media, Inc., a move partly designed to manage licensing headaches.  In total, the company says it has invested tens of millions of dollars in a more nimble sync licensing platform, though it's unclear if that system will withstand court scrutiny.
At this point, music industry vets are likely rolling their eyes at tech's tendency to invent their own licensing rules — regardless of what the actual 'law' states.  But Peloton seems to be playing a sophisticated game here.
The NMPA represents the largest music publishers, but this case is specifically being driven by plaintiffs Downtown Music Publishing, Pulse Music Publishing, ole, peermusic, Ultra Music, Big Deal Music, Reservoir, Round Hill, TRO Essex Music Group and The Royalty Network.
Incidentally, the lawsuit from the NMPA didn't mention the three biggest major publishers, only the 'smaller' publishers listed above.
In a separate email to Digital Music News, Peloton noted that separate agreements had been crafted with the largest music publishers: Sony/ATV, Warner/Chappell, and Universal Music Publishing Group (UMPG).  But Peloton's counterclaim could be dragging them into the fight.  Here's what Peloton alleges:
"NMPA is the largest trade association of music publishers in the United States.  It claims that its members control the copyrights to 'the vast majority of musical compositions licensed . . . in the United States.' David M. Israelite is its President and CEO.  Whatever conduct NMPA may engage in legitimately as a trade association, it may not engage in actions to coordinate negotiations (including over price terms) or to coordinate refusals to deal among a group of otherwise-competitor music publishers.  Yet that is precisely what NMPA did here."
That group, according to Peloton, is using the NMPA to strong-arm licensing terms in violation of U.S. antitrust statues.  That includes illegal collusion and price-fixing.
"NMPA has instigated a coordinated effort… to fix prices and to engage in a concerted refusal to deal with Peloton," the counter-filing alleges.
"Through these actions, NMPA has exceeded the bounds of legitimate conduct for a trade association and become the ringleader of concerted activity among would-be competitor music publishers, all in violation of the antitrust laws."
That counterclaim shifts the discussion a bit, and could hit the NMPA in a vulnerable spot.  Currently, the trade group, led by the calculating David Israelite, has been accused of orchestrating a complex scheme to claim unmatched 'black box' streaming royalties, despite serious questions about who the owners of those royalties actually are.
Under the NMPA's proposal to run the newly-approved Mechanical Licensing Collective, unclaimed streaming royalties of up to $1.5 billion would be quickly claimed by the major music publishers after just one year.  That process has drawn widespread criticism and even accusations of outright theft.
Peloton's attorneys, undoubtedly observing that situation, seem to be shrewdly attacking collusive behavior by major music publishers.
Earlier, Israelite noted that Peloton had licensed 'some' of the music it uses in exercise videos — though Peloton is somehow explaining that price-fixing and collusive behavior made complete licensing impossible.