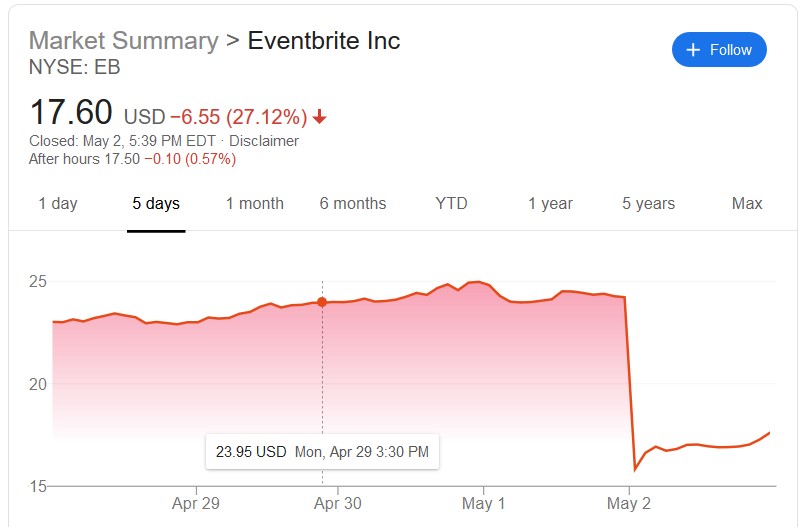 Eventbrite's stock woes continued on Thursday, with the company witnessing its sharpest one-day loss in history.
A disappointing earnings report and outlook spurred the sell-off.
The stock fell more than 31% on Thursday morning (May 2nd) after Eventbrite's earnings call.  The company posted a troubling financial loss of roughly $10 million, and warned of continued challenges in migrating Ticketfly customers.
Eventbrite purchased Ticketfly from Pandora back in 2017 for an estimated $200 million.  But since that acquisition, Ticketfly has been nothing but a headache for Eventbrite.  The ticketing company's reputation suffered after a brutal hack exposed account information for 27 million users.
Accordingly, the company cautioned months ago that the migration process is taking longer than expected, which limits Eventbrite's ability to predict financials.
Eventbrite announced the shutdown of TicketFly in November 2018.  Ticketfly co-founder Andrew Dreskin moved over to Eventbrite's music division as the president overseeing Eventbrite Music.
Eventbrite Music offers partnerships with over 50 distribution sites including YouTube, Spotify, Pandora, and Songkick.  The platform rolled out in North America and Australia in November 2018, with plans for other countries later this year.  Eventbrite has plans to fully sunset the Ticketfly platform in 2019.
Shares closed down nearly 25% for the worst single-day performance of Eventbrite shares on record. The Eventbrite IPO in September originally priced shares at $23.
Several analysts believe that Eventbrite's future hedges on whether major clients will migrate from Ticketfly or leave altogether. Most analysts cut their stock target price from the $20s range down to below $19 per share.
Numerous analysts also dropped their buy rating to a neutral one.
Eventbrite's stock has lost 13% of its value so far this year, while the S&P 500 has risen 17%.