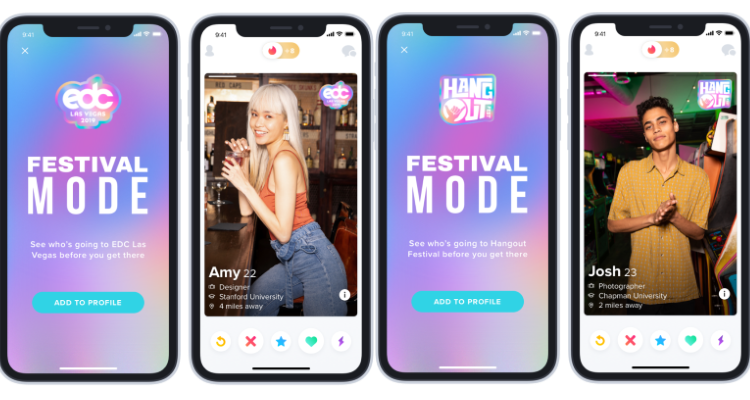 Tinder has announced a new 'Festival Mode' to allow users to share which live concerts and festivals they'll be attending this summer.
The new Festival Mode card allows users to add a festival badge to their profile.
Here's how it works.  Clicking on the festival badge will show you people who plan on attending, based on your app preferences. Festival Mode allows you to match with potential partners ahead of time, so you can coordinate your hook-up in chat.
Tinder says enabling Festival Mode may give users access to exclusive VIP upgrades, swag, and more. Tinder also offers integration with Spotify so users can share snippets of their favorite songs with potential matches.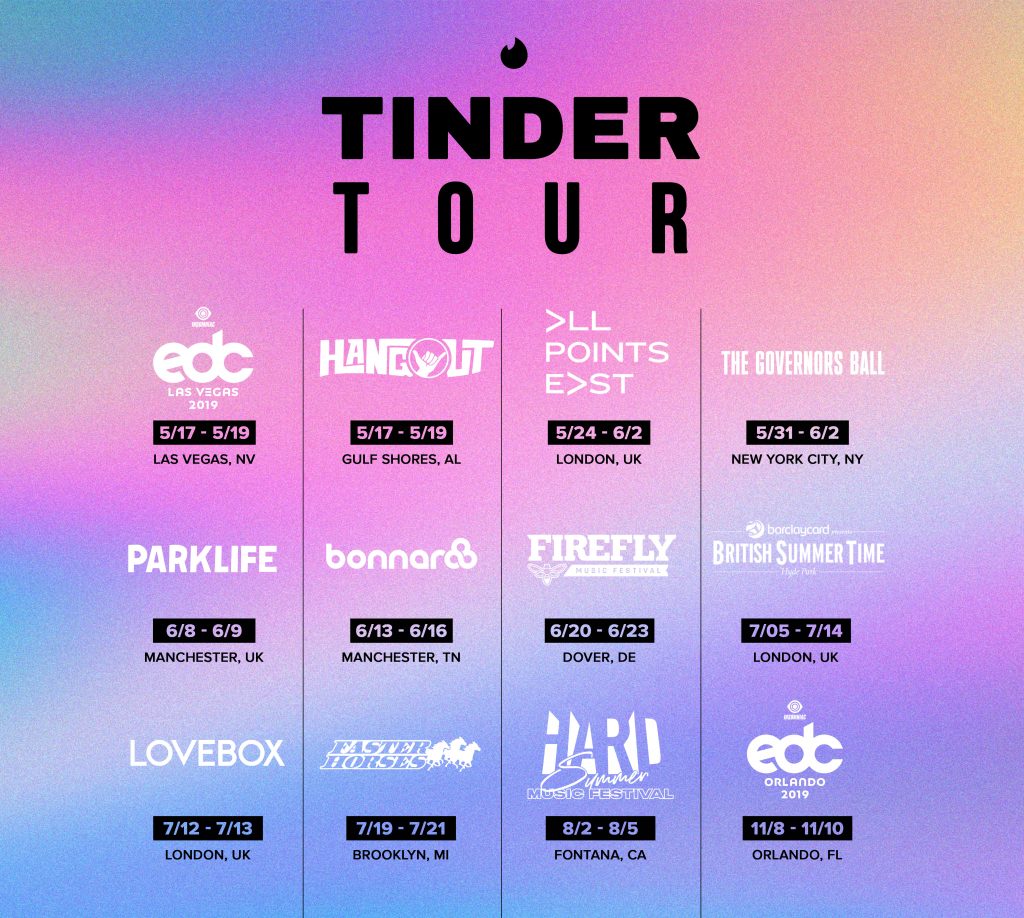 The festival rollout is already pretty substantial, with a dozen events included in the first phase.
EDC | Las Vegas, NV | 5/17 – 5/19
HangOut | Gulf Shores, AL | 5/17 – 5/19
All Points East | London, UK | 5/24 – 6/2
The Governors Ball | New York City, NY | 5/31 – 6/2
Park Life | Manchester, UK | 6/8 – 6/9
Bonnar | Manchester, TN | 6/13 – 6/16
FireFly Music Festival | Dover, DE | 6/20 – 6/23
British Summer Time | London, UK | 7/5 – 7/14
Lovebox | London, UK | 7/12 – 7/13
Faster Horses | Brooklyn, MI | 7/19 – 7/21
Hard Summer Music Festival | Fontana, CA | 8/2 – 8/5
EDC | Orlando, FL | 11/8 – 11/10
Tinder Festival Mode started rolling out to Tinder users in the United States on May 1st.  Currently, the participating festivals listed above are the only events available. Badges for each festival will appear three weeks prior to the start of each event.
The new feature is sure to see use by people who love the hook-up scene surrounding festivals.  At least one survey has shown that festival hook-ups are a wildly popular thing, though regular festivalgoers didn't need the news flash.
But mass-hookups have a downside.  Already, Coachella and other festivals have had to respond to rising sexual assault problems.  And TMZ recently reported that Coachella may have been responsible for the rise of herpes in the Coachella Valley area.  Despite that report, Coachella Valley health providers say they haven't seen an increase in herpes consultations or positive diagnoses.