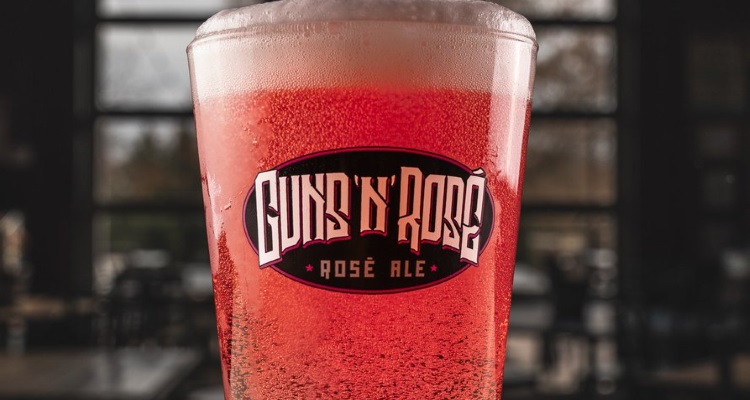 Oskar Blues Brewery might have seen this one coming.
Guns N' Roses has now filed a trademark infringement lawsuit against a Colorado brewery for its "Guns 'N' Rosé" ale.
According to the lawsuit, the band says Canarchy Craft Brewing Collective's Oskar Blues Brewery began selling the ale in 2018. The brewery had no approval from the group to use the name.  The lawsuit further says that the brewery created merchandise including hats, t-shirts, pint glasses, stickers, buttons, and bandanas with the Guns 'N' Rosé logo.
Oskar Blues Brewery attempted to register the logo last year, but abandoned the pursuit after the band objected. Axl Rose's lawyers and other bandmates argued that the name was "confusingly similar" to the Guns N' Roses logo.
Rose even asked the Oskar Blues brewery to stop selling the beer, but the owner of the brewery refused. The beer will be available until March 2020, unless this lawsuit is successful.
The lawsuit argues that the band has suffered trademark damage, including damage to its "trade name, business reputation, and goodwill."
"As of the filing of this Complaint, Defendant's GUNS N ROSE beer continues to be sold at retailers such as BevMo, and Defendant's infringing GUNS N ROSE merchandise continues to be sold on Defendant's website. Defendant should not be entitled to continue to sell infringing products and intentionally trade on the GNR's goodwill, prestige, and fame without GNR's approval, license, or consent."
The band is seeking to bar the brewery from selling the ale. They're also asking for any leftover merchandise from the stunt to be delivered for destruction. Compensatory and punitive damages are attached as well. You can see the full complaint below.
Neither the Oskar Blues brewery or Guns N' Roses have responded to a request for comment. A tweet on the brewery's official Twitter page describes the ale as a "sticky prickly pear and floral hibiscus taste with a subtle hop profile."
Here's the full filing
.