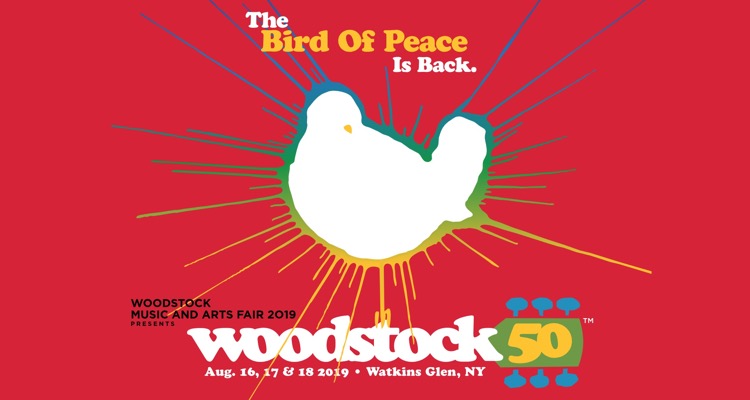 Permits still haven't been obtained, according to exiting investor Dentsu Aegis.
If there was any hope of Woodstock 50 happening in early August, this should extinguish that flame.
In legal filings today, former Woodstock 50 investor Dentsu Aegis bluntly explained why they removed nearly $18 million from the festival's bank account.
Michael Lang, who's heading the event, was pegged as a seriously incompetent organizer and the reason for the festival's implosion.  "Woodstock 50 LLC's and Michael Lang's misrepresentations, incompetence, and contractual breaches have made it impossible to produce a high-quality event that is safe and secure for concertgoers, artists, and staff," Dentsu filed in a legal rebuttal against an injunction filed by Lang at the Supreme Court of the State of New York.
"The production company has quit, no permits have been issued, necessary roadwork has not begun, and there is no prospect for sufficient financing.  As much as the parties might wish it otherwise, the festival contemplated by their agreement cannot happen and allowing it to go forward would only put the public at risk."
If only Dentsu had been an investor in Fyre Festival — but that's another story.
The retort follows an aggressive demand for legal injunction by Michael Lang, whose Woodstock Ventures was apparently shocked by Dentsu's abrupt withdrawal.  The injunction would force Dentsu to put its $17.8 million investment back into the festival bank account to allow preparations to resume.
Lang's Woodstock Ventures is represented by attorney Marc Kasowitz, who previously represented Donald Trump in 2017.
Amazingly, Dentsu, which coordinated its investment through Amplifi Live, claimed that Lang still hasn't secured the necessary land-use permits.  They claim Lang misrepresented the size of the festival by projecting attendance of 150,000, while production company Superfly estimated the safe capacity at 75,000.
In fact, Superfly issued multiple warnings on the capacity concerns, while demanding pare-downs to make the festival feasible.  Around that time, Digital Music News sniffed a disaster ahead — and called the festival's crash.  But maybe that was obvious to anyone involved with the event.
Superfly ultimately quit the event shortly after Dentsu pulled its funds, making it doubly difficult to pull this disaster back together.  But Dentsu says that Lang has no legal basis to demand an injunction, especially given the sorry state of preparations so far.
Aside from the missing permits, Dentsu says the event wouldn't be safe for fans, and a three-stage layout is simply unfeasible.
Kasowitz said that regardless of Dentsu's feelings on the festival's readiness, it has no legal authority to pull its cash.
"While Dentsu has used its filing to sling mud, nothing in its court papers changes the fact that Dentsu has no right under its agreement with Woodstock 50 to either cancel the Festival or abscond with nearly $18 million of the Festival's money," Kasowitz said.
"We look forward to addressing that in court this [Monday] afternoon."
Kasowitz has also argued that the reason permits remain outstanding is that Dentsu pulled its funds.  The pullout made it impossible to post the bond required for the land-use permit, setting up a disastrous catch-22.
Meanwhile, the clock is ticking.
The event, slated for August 16-18th at Watkins Glen International speedway, is in a sorry state of affairs.  Tickets are still unavailable for purchase, though Lang has kept the fire alive on the Woodstock 50 site.  Still, any forced reconciliation is unlikely to produce a memorable event, and high-profile artists like Jay-Z, Janelle Monae, and Imagine Dragons may be off the hook legally.