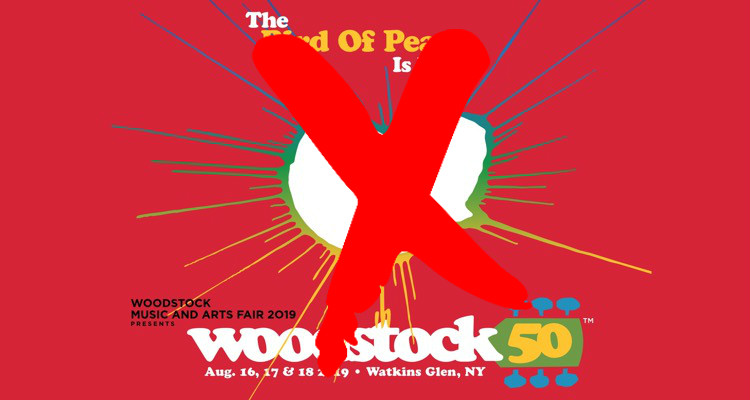 No permits.  No production company to produce Woodstock 50.  No funding to secure more artists or the necessary permits.  What does Michael Lang really expect?
Last week, in a desperate move, beleaguered Woodstock 50 co-founder Michael Lang filed a lawsuit against media and digital marketing giant, Dentsu Aegis and its music festival production arm, Amplifi Live.
Filed by former Donald Trump attorney Marc Kasowitz, the lawsuit blamed Dentsu for 'illegally' pulling its $17.8 million investment, thus leading to Woodstock 50's (inevitable) cancelation (or near-cancelation).
With the filing, Lang had hoped to obtain a last-minute injunction, forcing Dentsu to return the money to hold the failed event.
There was just one problem.  A federal judge didn't exactly see eye-to-eye with Lang and Kasowitz's initial arguments.
On the hearing's first day, New York Supreme Court judge, Justice Barry R. Ostrager, ordered Lang and his attorney to stop testifying about the 'need' to hold Woodstock 50.
Justice Ostrager told Lang and Kasowitz,
"I don't want to hear any testimony about how important it is to the world to have Woodstock 50.  This is a contractual dispute."
As expected, Dentsu Aegis fired back, labeling Lang as belligerent and incompetent.
In a legal rebuttal, the media and marketing giant wrote,
"Woodstock 50 LLC's and Michael Lang's misrepresentations, incompetence, and contractual breaches have made it impossible to produce a high-quality event that is safe and secure for concertgoers, artists, and staff."
Citing the event's lack of funding, and thus, Lang's inability to hold Woodstock 50, Dentsu Aegis wrote,
"The production company has quit, no permits have been issued, necessary roadwork has not begun, and there's no prospect for sufficient financing.  As much as the parties might wish it otherwise, the festival contemplated by their agreement cannot happen, and allowing it to go forward would only put the public at risk."
Now, in even more bad news for Lang and Kasowitz, the judge has made an unexpected move.
Don't expect this case to 'save' Woodstock 50.
Yesterday afternoon, Justice Ostrager abruptly adjourned the case.
He told both sides he would issue a ruling within 24 to 36 hours.
As Billboard explained, Dentsu Aegis attorney Marc Greenwald portrayed the event as a catastrophic failure.  Calling in two witnesses, he showed that Lang and his festival team had lacked infrastructure, permits, and basic safety measures to hold the 150,000+ person event.  This ultimately led to a violation of Lang's contract with Amplifi Live.
Much to Lang's chagrin, one of the witnesses, Peter Office, MKTG's Chief Operating Officer, unexpectedly shared details of a conversation between the co-founder and Woodstock 50 partner, Susan Cronin.
"There was one conversation early on where Michael Lang requested that Danny Wimmer [talent buyer for the festival] be used as a concessionaire, and Susan Cronin and I said that was not a smart idea.

"There were conversations held where Susan Cronin was not complimentary to Michael, and wished he was not part of the program.  She thought he was interfering in multiple things related to the program."
Following Justice Ostrager's rebuke, reminding Lang and his attorney the case remained a contractual dispute, Kasowitz changed his strategy.  He now aimed to show Dentsu Aegis didn't have the right to cancel the contract.
Questioning DJ Martin, Dentsu Aegis' Chief Commercial Officer, Kasowitz asked,
"Why did Dentsu and Amplifi choose to exercise the control option, rather than terminate the agreement, which they had the right to do, assuming there were breaches, which you claim there are?"
Martin explained that Dentsu's legal counsel had pressed executives to cancel the event to minimize Woodstock 50's cost.
"If we took control, it was the best path to protect and minimize our losses.  We wanted to make sure no further damage could be done to Woodstock, our partners, and our audience."
Confident about his client's case, Kasowitz told reporters,
"I think our case turns on the contract, clear as day."
---