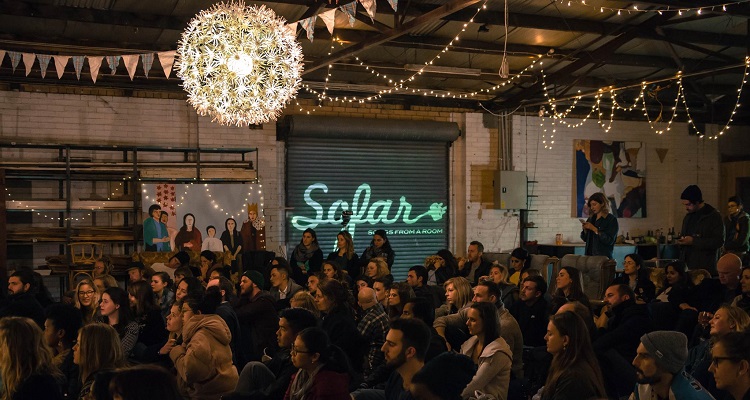 Sofar Sounds has reached a new fundraising milestone.
Led by Battery Ventures and Union Square Ventures, the house concerts company has raised $25 million.  Sofar Sounds previously raised $6 million from Octopus Ventures and Virgin Group, who also participated in the recent fundraising round.
The announcement comes just three months after Sofar Sounds hired its new CEO, Jim Lucchese.  He previously served as the Global Head of Creator at Spotify and also as CEO of Echo Nest.
The company will use the funding to fuel its global expansion plans.  It aims to become "the de facto way emerging artists play outside of traditional venues."
Sounds great, except for some lingering exploitation problems.  According to Josh Constine at TechCrunch, Sofar Sounds often pays bands just $100 for a 25-minute set.  The company also doesn't pay host venues anything, while Sofar pockets around $1,000 to $1,600 per gig.  Spinning the unfair practice, the company argues bands receive more exposure this way.
Sofar now hosts over 600 shows per month across 430 cities around the globe.  These include New York, London, Paris, Los Angeles, Buenos Aires, Sydney, and Seoul, among many others.  The company has also claimed that 40 of the 25,000 artists who have participated in performances have either received a Grammy nod or a win.
According to a source speaking with TechCrunch, the lack of fair payments to artists likely comes from overhead costs.  Sofar Sounds, a for-profit company, pays full-time employees to focus on venue reservation, artist bookings, and promotion.  The $100 payment artists receive, however, remains only a fraction of what Sofar earns from ticket sales alone.
Speaking about the company's lopsided payouts, Joshua McClain, an alternative artist from Oakland, explained,
"Sofar… seems to be just fine with leaving out the most integral part: paying the musicians."
Urging people to #BoycottSofarSounds, he adds,
"This is where they willingly step onto the same stage as companies like Uber or Lyft – savvy middle-men tech start-ups, with powerful marketing muscle, not-so-delicately wedging themselves in-between the customer and merchant (audience and musician in this case).  In this model, everything but the service-provider is put first: growth, profitability, share-holders, marketers, convenience, and audience members –  all at the cost of the hardworking people that actually provide the service."
Speaking with Digital Music News, Hattie Webb, an independent artist, described her experience with Sofar, explaining why she ultimately turned down the company.
"Sofar approached me a while back to play a show which I was initially interested in doing.  When I asked about the numbers, they said 100-150 capacity, £10 ($12.66) a ticket, £80 ($101.29) to the artist, it didn't add up.   They didn't offer a house PA or a sound engineer to mix the gig and their negligible payment wouldn't have covered either!  I passed on it."
Defending the company's practice, Lucchese said,
"$100…for a showcase slot is definitely fair."
He doesn't think playing "a Sofar [gig] right now is the right move for every type of artist."   Spinning the poor payouts, Luchesse said shows are "pay-what-you-want" and artists keep "the majority of the money."
However, in an exposé published two years ago, KQED writer Emma Silvers found most artists don't know Sofar Sounds is a for-profit company.  They also don't know the company pockets most of the money earned from gigs.
Speaking with Silvers, Madeline Kenney, another Oakland singer/songwriter, explained,
"I think they talk a lot about supporting local artists, but what they're actually doing is perpetuating the idea that it's okay for musicians to get paid s—t."
---
Featured image by Sofar Sounds Melbourne.