A new report from the International Music Summit's annual economic study reveals that EDM music and DJ pay is trending downward.
Las Vegas night clubs and parties have long fueled the growth of EDM in the United States, but that trend appears to be slowing down.  The IMS report shows that electronic dance music's share of the market fell to just 3% in the US in 2018. That figure is down from 3.5% in 2017 and 4% in 2016.
Dance music fell significantly in the USA and the UK, but both Germany and Canada saw a positive net increase. The decline was the largest in the UK, where EDM fell from 11.6% to 9.5% of total recorded music share.
Despite the decline, the IMS report estimates that EDM is still the third most popular genre, with more than 1.5 billion listeners.
The IMS report also highlights why so many EDM artists have been focusing their efforts on video games. Global revenues from video games outpace both film and music — combined — for electronic DJs.
Music and films only generated $62 million in estimated revenue, while video games generated $138 million in 2018.
DJ earnings took a tumble along with the decline, as evidenced by the estimated earnings of the ten highest-paid DJs. Top ten estimated revenues reached only $261 million, which is the lowest recorded estimate since 2013. That figure is down 12% year-over-year.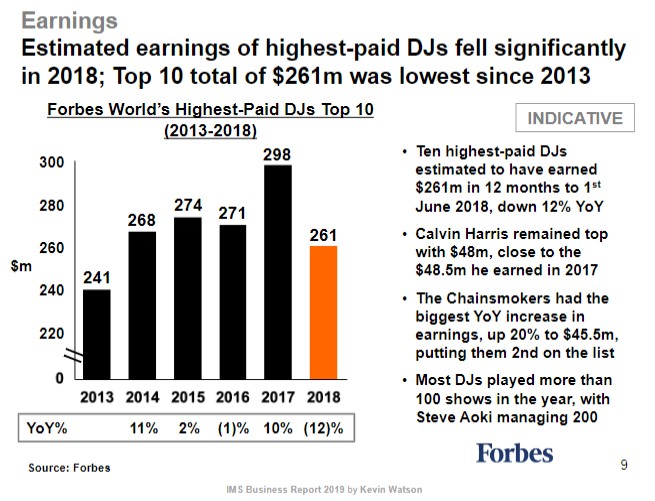 Calvin Harris remains the top-paid DJ with an estimated $48 million, but that's still $500,000 less than his estimated earnings for 2017.  Most top ten DJs played over 100 shows in 2018, though Steve Aoki doubled that with over 200 performances.
Despite the decline in pay for DJs and EDM's popularity, female techno DJs dominated the festival circuit in 2018.
Nina Kraviz played two times as many performances as the leading band, with 35 festivals under her belt. That's compared to the 18 festival performances from The Killers.