I did something relatively gutsy and not entirely unprovoked, I broke into the offices of PledgeMusic.
The following comes from Hattie Webb, yet another artist stiffed by PledgeMusic.
On the evening of Friday 1st February 2019, I saw artists posting online that PledgeMusic was in financial trouble. A shock of adrenaline surged through me. For 20 months PledgeMusic had been stalling paying me £5.4K [$6.9K], the final installment of the money I had raised on the PledgeMusic site to pay for the making and release of my first solo album To The Bone. PledgeMusic received£3.1K [$3.93K] in commission of the total £17.3K [$21.94K] of income of pre-orders. (The campaign commenced in December 2015.)
On Monday 4th of February, with a fire in my belly and after no response from the phone lines at PledgeMusic, I looked up their office address, took the train to central London and went for the first time to the PledgeMusic offices in Soho (a very beautiful office I might add).  When I was told by reception that the office would not receive anyone, I asked where the toilets were.  I then walked past the toilets, hiked up the stairs, opened the office door and plonked myself down on the communal sofa.
A PledgeMusic associate approached me and I said I would not leave until I could speak with the director.
I waited.  Malcolm Dunbar was on the phone in the main boardroom, I could see him through the glass wall.  There were about ten people working at their computers across the office space.  The environment looked buoyant.  I had a moment thinking, "maybe this crisis is not as bad as we thought?".
My hopes were short lived. Malcolm signed off on his phone call and ushered me in.
I explained that because no one would reply to me, I had to come to them.  I demanded they transfer payment or I would not leave the premises.
After 20 months of having faith in their explanations, after my many phone calls and zillions of emails sent since my campaign completed in June 2017, I needed to see action.
One might ask why I had not seen the red flags sooner.  I'm a little ashamed to admit that it was mainly because of the calibre of the other artists that chose to work with PledgeMusic, artists I admired immensely.  These artists had chosen this new creative home, leaving their previous old music business model abodes, to great success.  How current it is in today's climate, that credibility can be so blinding it shrouds the real truth.  I was gullible as to what the real reasons were for these extensive delays.
These are some of the many explanations I had previously received:
"at the moment finance are going through some procedural changes and they've got a slight backlog in payments"…
"we've been experiencing delays due to PayPal terminating us using them as our payment provider" …
"a backlog exists, and the process is manual because it's been forced that way by the hand we've been dealt" …
"we now work with a far inferior back up payment provider" …
"it's where we're at and we're doing our very best to catch up" …
"the knock on effect has been more impactful than we ever imagined it would be" …
"I'm very very sorry to hear you've still not received this payment. I did request it back when we last spoke and am trying to find out why that wasn't paid" …
"I understand this is in no way helpful to you right now, but it's where we're at and we're doing our very best to catch up." …
"I'm planning another payment this week against the balance owed and we'll get the full balance up to date in early Jan 2019."
The list goes on.
As I said, I feel like an idiot for believing it all.  Not once were the real reasons mentioned.
I spoke with Malcolm for over an hour and part way through, Paul Barton joined.  They said that there was no way they can pay me until new potential partners come on board as New York has stopped all accounting.
I asked to speak with New York.
Malcolm called the new financial director Jim on his mobile phone in New York (who had apparently been with Pledge for a month) and passed on the phone to me.  I asked for an explanation as to why we all haven't been paid.  Jim suggested that I get a lawyer to write to PledgeMusic to 'stake my claim'.  I said, I may have been previously naive, but spending another few hundred pounds to pay a lawyer to send a letter to sit at the bottom of an ever increasing pile was not something I intended to do.
I said I have actually been an ally and champion of PledgeMusic because of what they previously stood for.  Their mission statement being that "PledgeMusic is dedicated to bringing innovative artists and passionate fans closer together than anywhere else… by giving artists a platform."  I know many extraordinary artists who haven't had support from labels, who have taken the bull by the horns and with their bare hands, created, funded and released incredible albums with the support and platform of PledgeMusic.
I told them that eventually I had to get a loan for the amount of money owed to me by PledgeMusic to pay my team, print my CDs, merch and to post them all out.  I said that I only hope that this can be brought to a righteous place.  That we all receive our rightful payments, raised with blood sweat and tears (truly) and to restore the belief that bands and fans had in them. That the level of transparency in their communications, particularly now in a challenging time, will shape how each of them individually and as a team are seen in this industry and in the world.
How important is your word and code of honorability in life?  To me, it is everything.
Paul said that the reason they have stopped answering my messages is that they had run out of things to say.  I said there's always something to say, even if it is to take responsibility for their current position and reiterate their intentions.  I also said that when the public statement was sent out to press on Friday, how much it would have meant to all who had signed up with them, to have received an email illuminating us about the situation, versus us randomly reading about it online.
I think we deserved that level of consideration.  Surely there was one person in that office that could have been allocated that essential task?  Or were the artists still a thing very low on the list of importance when it came to their music business model? This certainly didn't fit their mission statement.
Malcolm and Paul said that it has been horrendous for them too, they looked deeply disheartened that so many artists are going through this and said that they personally have received a lot of abuse.  I am sorry for this, no one should have to put up with abuse, but I truly believe that with more transparency, it could have been avoided.
They told me about their plans to have new investors and pay everyone by April.  I asked directly… at this point, why would anyone have faith in their company name even if they do get bailed out?  They said it would be the same platform with a complete rebrand.  Plus that the artist's money would never actually go to the PledgeMusic bank account, only the commission.
But it wasn't enough for me without an explanation. I asked them how long the financial crisis has been going on at PledgeMusic?  They said over a year.  I asked them why they have prime real estate in the center of Covent Garden London as their offices (next to the very elegant private members club, 'The Hospital Club'), particularly throughout the time they've been in financial trouble and whilst they are avoiding paying artists?  I said this is not a good use of the money!  I asked if there were some offices in Croydon or Staines, out in the suburbs they could have moved to?  I didn't mean to be condescending.  We as artists had not been part of the conversation with how our money was spent.  They both agreed and said those decisions came from New York.
They also said that the whole finance team had been fired due to disastrous and disorganized accounting.  Shockingly, they said that many of the PledgeMusic employees had been asked to max out their personal credit cards to help the cash flow.
They said that they had been financially sunk by the USA division of the company.  Wrecked by the rebranding costs and an outrageous ambitiousness to compete with Spotify.  Who really knows where the money went, but the money was gone.
I asked why someone hadn't flagged this up sooner and reigned in spending money on fluff?  Was this a trailblazing music industry model or just the same scenario swaddled up in community soaked language? For someone like me who has also been through the sometimes deeply disheartening sausage factory of being signed to a major label, someone who has been financially and emotionally rogered by both major artist management and my own personal management, I'm sorry to say, I believed it.
(I say all of this knowing I have been very lucky with the chances I have been given too, believe me.)
I laid it out that if they don't reply to emails and now that their phone line is down, how can I trust their word that they will communicate with us moving forward?  I have had the wool pulled for too long.  What will happen if I walk out of this office, will I ever hear back from them again?  They gave me both of their private mobile phone numbers.
When I left that day, I noticed their plastic 'PledgeMusic heart-logo placard' on the side table in their office.  As I stepped outside onto the Soho street, there was a dark shadow where it had once been positioned on the outside main wall.  It was an odd feeling, as if they didn't want it to be known they were still there in residence.
(Side note: that night, I went to see Steve Ferrone play at the 606 with Hamish Stuart, it seriously kicked butt and was a welcome and joyful distraction.)
(Second side note: In December 2018, I did receive £1.5K [$1.9K] of the amount owed, perhaps after my increasingly pressurizing emails.)
Mostly, after the initial shock, at this point I feel sad to think of all the music, of the artists and their lives that have been detrimentally affected by PledgeMusic's actions or lack there of.  I know business is not a straight line, but for many, this situation is hugely more difficult than the shabby hand I have been served.  Because my release was back in 2017, I was able to honor every one of the 524 orders of my album and merchandise that friends and followers had purchased, pre-investing in my album, before this shutdown.  Not everyone has had the chance for their work to see the light of day because PledgeMusic has a claim on it.  There are also many people who have made purchases directly with PledgeMusic and haven't received any merch.  Most have had no response from PledgeMusic about the return of their money.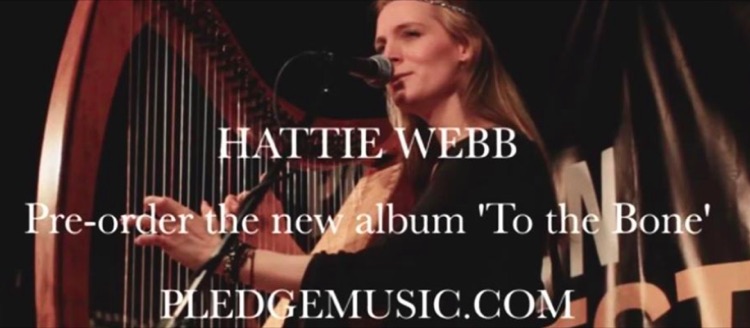 I am eternally grateful for those that invested and travelled with me on the journey of creating and releasing my record and for the extraordinary team of sound engineers, artists and collaborators I worked with. I had the time of my life making it.
I do feel heavy hearted that many artists with so much to contribute to this crazy world, have had a previously effective grass roots route destroyed.  The connective tissue between creating and having the support to send that out into the world is an essential part of being an artist, there is a circular nature to it.  The ability and freedom to fund and create has been savagely shredded by big business greed and a continuing lack of respect for the very artists that make it possible for the business side to exist. Not a new music business model as advertised.
Since all of this has happened, a community has been forming of artists affected in the fallout.  For this I am also grateful.
At the heart of the matter, the passion at the core of creativity shall never be diminished!  We are immensely blessed to have the freedom to express our truth in whatever form we feel, that is ever powerful.  As my friend Francesco Mastromatteo said, "We work with something we can not see and we can never possess.  Sound is simply always free and has an endless value".
On Friday, I read that the sale had fallen through and that bankruptcy was inevitable for PledgeMusic.  I read 'the sale of which would be used to pay artists'.  I immediately texted Paul and Malcolm to find out how these so called 'remaining assets' will be divided.  Is it not the righteous decision at this final stage, to communicate directly with the artists with what will happen moving forward?
I have not heard back since.