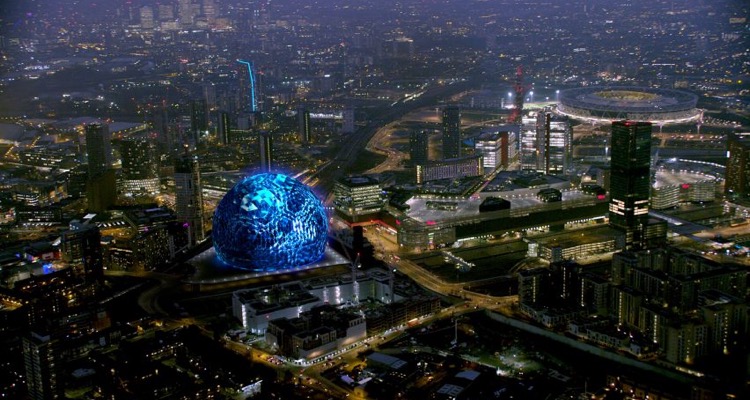 The Madison Square Garden Company has announced AECOM will serve as general contractor for the MSG Sphere at The Venetian.
The state-of-the-art entertainment venue is currently under construction in Las Vegas.  AECOM brings considerable experience building stadiums and entertainment facilities across the United States.
Previous stadiums completed by AECOM include:
T-Mobile Arena in Las Vegas, Nevada
Mercedes-Benz Stadium and State Farm Arena in Atlanta, Georgia
USTA Billie Jean King National Tennis Center in Queens, New York
MSGC's Executive Vice President of Development and Construction says he's pleased to have AECOM on board.  MSG Sphere at The Venetian is set to be the premier destination for the future of live music performances, with an ultra-immersive, tactile experience planned.
"We look forward to working with them to deliver a truly groundbreaking experience for Las Vegas, one that will ultimately redefine the entertainment industry and serve as a long-term investment in the city's role as a leading international tourist destination."
MSG Sphere at The Venetian will feature an iconic spherical shape (see concept image above). The outside will feature a fully programmable LED exterior for advertisements and light shows. The venue will have 17,500 seats and will offer the biggest and highest resolution LED screen on earth.
The screen is estimated to be 100 times better than today's HD televisions.
Visitors will be treated to 'touching music experiences' through an infrasound haptic system, using deep vibrations for guests to feel the experience. MSG Sphere will also include the sense of smell through evocative scents to help transport audiences in an immersive experience.
MSG Sphere is situated on an 18-acre site on Sands Avenue between Manhattan Street and Koval Lane. The venue will connect to the Venetian Resort via a 1,000-foot pedestrian bridge.
Madison Square Garden Company hopes to finish MSG Sphere and open sometime in 2021, though an official opening date has not been announced.