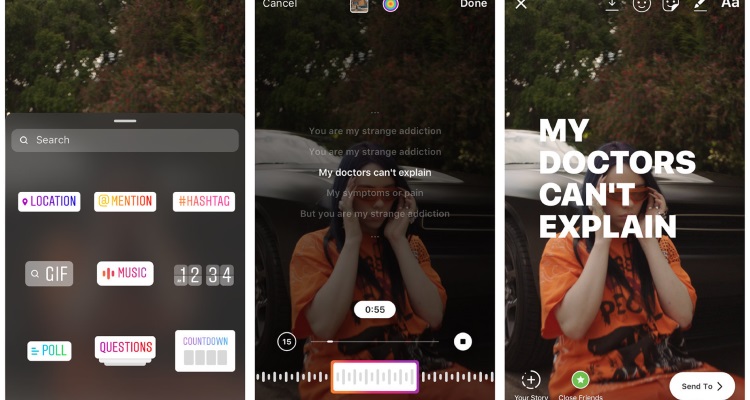 Instagram is fighting back against TikTok's rise among teenagers with new integrated lyrics on video Stories.
Facebook even recruited Billie Eilish to showcase the new feature.
Integrated lyrics can be added to any Story with a musical sticker. The feature is available everywhere Instagram Music is available including the US, France, and Germany.
To start using the new feature, select the Music lens for your Story before you record, or the Music sticker after you have recorded.  Choose the song you want, and you'll see lyrics pop up.
Users can cut the segment of lyrics that is relevant to their Story, making it seem like a karaoke prompter to the viewer.
There are several different animations to choose from for lyric delivery, including typewriter and billboard font. Instagram says music has always been a big part of expression on the platform, so adding lyrics made sense.  A more cynical take is that Instagram is ripping off a fast-moving competitor once again.
"Now, we're building on our music features and introducing the ability to add lyrics when you add a song to your story."
Tech blogs have known about the upcoming feature for a while now.  References to integrated lyrics appeared in recent Instagram app teardowns, suggesting Facebook was ready to copy TikTok.
Of course, TikTok isn't resting on its laurels.
As one of the fastest growing social networks in the world, ByteDance-owned TikTok continues to add new innovative features.  Today the app took a page out of Snapchat's book by allowing overlaid captions on videos.  Currently, users often write their captions on a piece of paper to use during clips.
Instagram became the popular teen refuge from Facebook, though both Snapchat and TikTok have seriously challenged Instagram in teen culture.  The plastic look and numerous influencer controversies have led teens to consider platforms in which expressing yourself online is less than perfect, and that's okay.