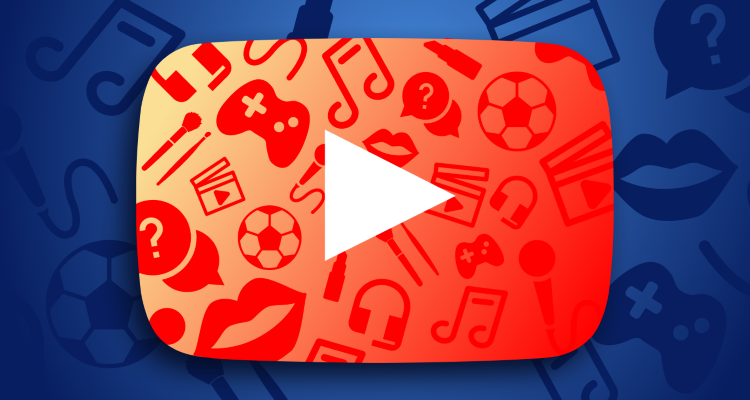 Despite being one of the lowest paying royalty platforms, music is the number one format for engagement on YouTube.
A new study showcases — once again — just how vital the music category is to YouTube as a whole.
The study, by Pex, showcases which categories on YouTube are dominant drivers of growth and engagement on the platform. The study examined the performance of publicly available YouTube videos up to December 31, 2018. The results reveal that YouTube has over 5.2 billion videos, 1 billion hours of content, and 29 trillion views.
The YouTube platform saw around 621 hours of content uploaded every minute in 2018, or roughly 10 hours of content every second. That's even higher than the 500-hour estimate shared by CEO Susan Wojcicki back in March. Unsurprisingly, the length of these videos has increased each year since the restriction lifted.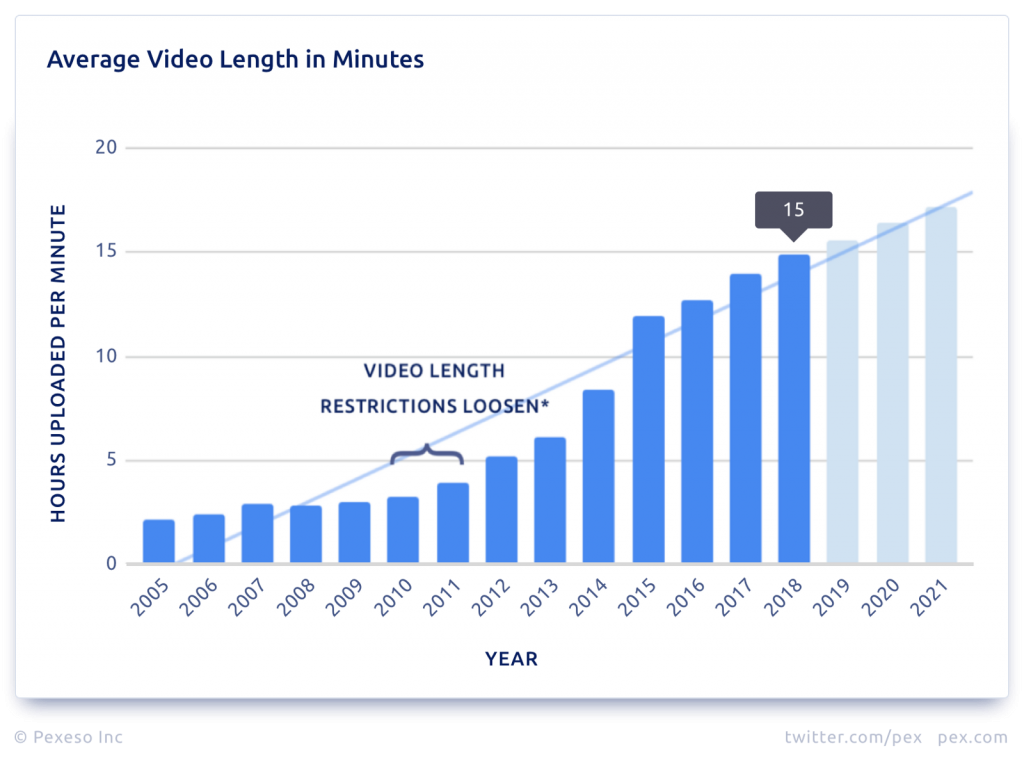 In July 2010, YouTube increased the max video length from 10 to 15 minutes for all users. In 2011, the platform allowed verified users to upload long-form videos. The result is that the average video length has jumped from less than 5 minutes in 2010 to almost 15 minutes in 2018.
Users uploaded more than 1.3 billion videos in 2018, but the growth of the platform is slowing down. Drilling down into the data and looking at individual user accounts, we see YouTube's growth may have peaked due to population saturation.
Other swaths of the population are restricted. Of the 4 billion smartphone owners, for example, 800 million are blocked in China. Many parts of the world still don't have fast enough connections to consume regular video content.
Overall, YouTube witnessed a drop in the number of accounts uploading at least one video in 2018.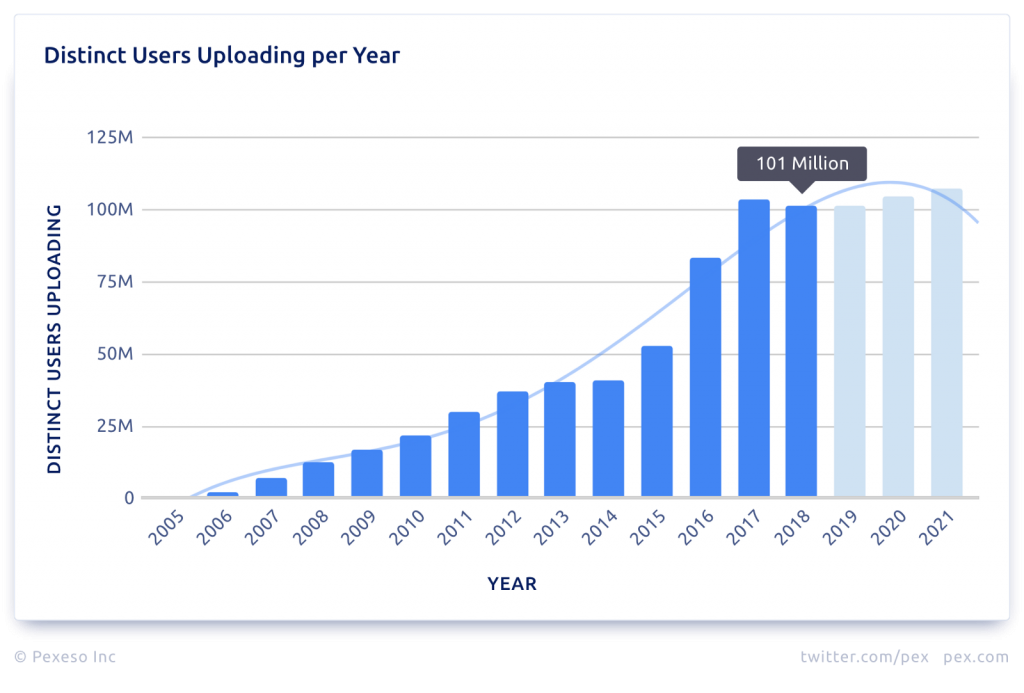 The peak and decline also explains why YouTube is focusing so much on creating an engaging algorithm; YouTube wants to keep people engaged as long as possible on the platform. Video uploads are up thanks to that effort, with the average user uploading 13 videos every year. That's compared to the average user uploading around five videos a year back in 2010.
Gaming is the fastest-growing video category on YouTube, but it is the least engaging content on YouTube. The music category takes the crown for the most-engaging content category on the video site.
The average length of a music video on YouTube is 6.8 minutes with an average of 2,411 views per minute and 16,397 views per video. That's compared to the gaming category's average of 24.7 minutes per video with only 121 views per minute and 2,987 views per video. Music by far is the most profitable category on YouTube.
Since music content tends to be shorter than other categories like gaming, it costs YouTube less to host.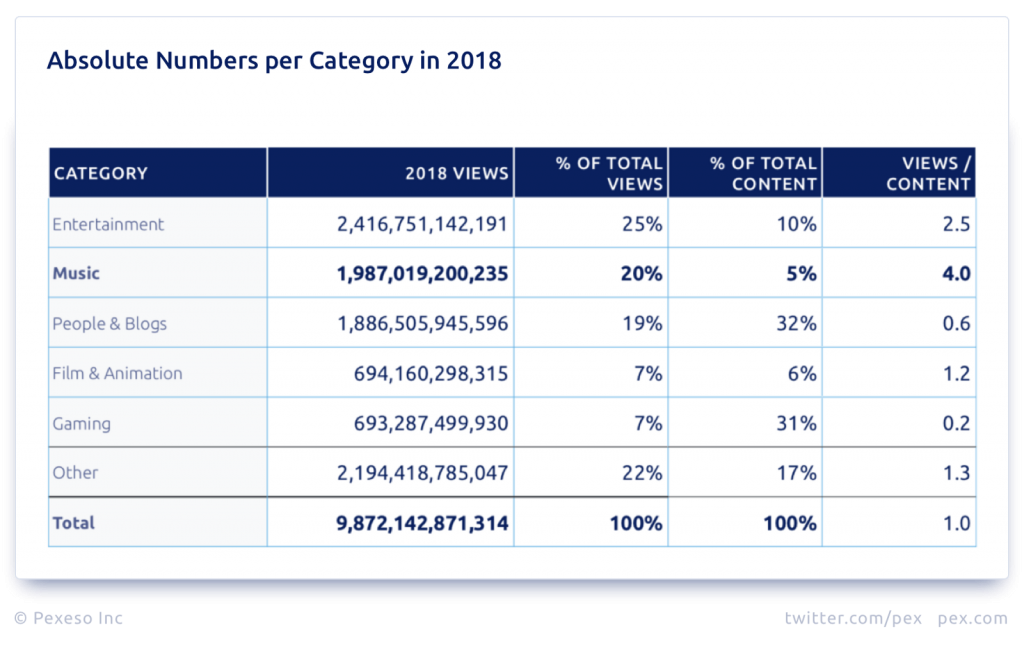 Music is the category with the shortest videos, but generates the most views per average video. The music category received 20% of all total views on YouTube last year — but makes up only 5% of YouTube's total content. Music and Entertainment are the two YouTube categories that deliver the highest returns, but YouTube doesn't want you to know that.
Music and entertainment content must be licensed with royalties paid to creators, and YouTube is the lowest-paying royalty site around. No wonder YouTube is so busy focusing on trying to push original content: 45% of its total views in 2018 involved licensed content.