"We more than doubled our audiences using social media posts created with PosterMyWall."
— Arielle Danos, Southern EarthTones band
The following guest post comes from PosterMyWall, a proud partner of Digital Music News.
The competition for musicians has never been more intense as you try to promote your band, your music, your sound.  Along with the fact that an average person becomes distracted in 8 seconds, or less, there's no time to waste in creating attention-grabbing promo graphics.
On social media, video generates 12 times more shares than text and images combined, while original graphics generate 40% greater engagement than stock graphics or pictures.
PosterMyWall provides jaw-dropping, customizable video and poster templates that can exponentially increase your audience engagement.
Read on to discover how you can use PosterMyWall to employ video, as well as other visual graphics that together will propel your music into the next big thing.
#1 Capture it on Video, and You Capture your Audience
Nothing engages an audience like video. But using video to hype your music may seem daunting, expensive, and requiring skills not in your toolkit. Luckily, do-it-yourself online tool, PosterMyWall, gives you easy to use, customizable video templates, as well as enables you to add your own audio tracks.
Design engaging promo videos for everything from a new album or song release, to studio clips (have a mind-blowing drum solo or a sizzling violin session?), to teasers for upcoming concerts. Tag your video with a short phrase (e.g., drum solo) that music enthusiasts may be searching for that will bring that audience straight to your band.
Engage away with video templates from PosterMyWall:
The digital world has dramatically changed the landscape of marketing musicians and their music. But fans still love to poster their walls with pictures of their favorite bands, concerts, and even lyrics. Post captivating graphics online, as well as give away mind-blowing posters that YOU designed, to keep your band as visually engaging as you are musical.
#2 Design Visual Content – Digital & Print
Visual content is a two-pronged approach to marketing. First, use visual marketing materials on digital platforms, especially your website. Promote gigs and sell new releases with attention-generating graphics. Second, print marketing, that is, posters and flyers, remain a tried and true method for getting the word out about your music. Future fans can't hear you jam unless they visually learn where, when or how to listen.
It should be music to your ears that creating stunning marketing materials for digital and print use has never been easier with PosterMyWall, which offers a bonanza of customizable templates that enable you to design professional posters, flyers, banners and tour announcements. Incorporate photos of your events, crowd selfies, Instagram hashtags, and of course, your website address and logo before handing them out at events or posting them locally to build your brand recognition.
Go for jaw-dropping visual content using PosterMyWall templates: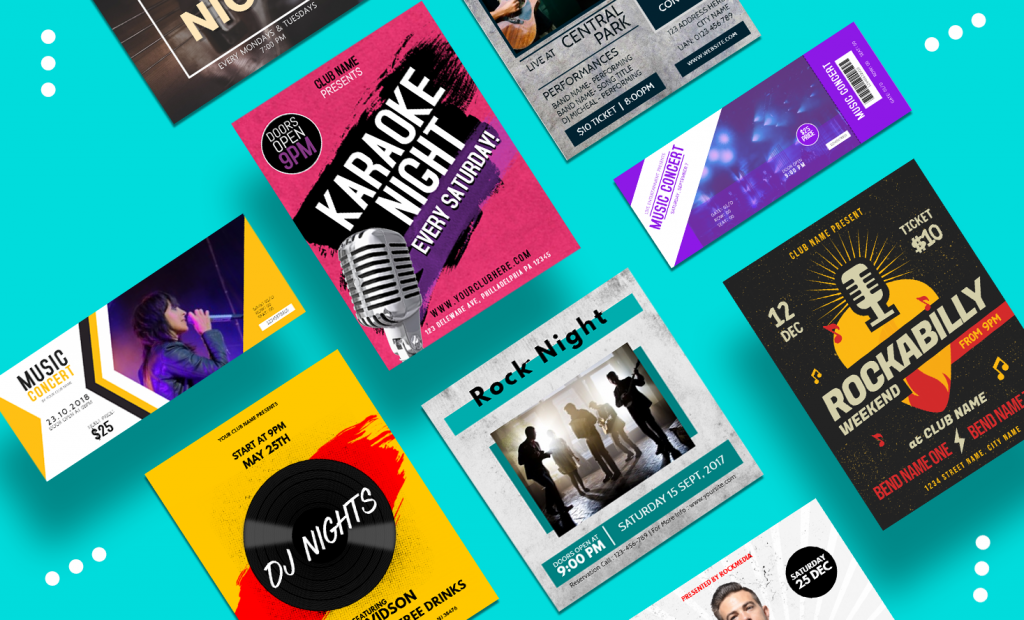 Keep those creative design juices flowing to promote your latest releases with a mind-blowing album cover.
#3 Create an Unforgettable Album Cover
With so many new artists emerging every day, and new releases on top of that, capturing your audience's attention and generating a following is challenging. Your music needs to stand out and get noticed. There is no better way than to design an eye-grabbing album cover for your newest tracks. The good news is that you already have the tools to make this happen, easily and without breaking your budget.
PosterMyWall offers professionally designed and customizable album cover templates for a variety of musical genres. Customize a template or get ideas to design a cover that captures both the essence of your music and the attention of your audience. The possibilities to promote your music are endless. Check out some album cover templates from PosterMyWall.
Engaging your fans and marketing your band is not unlike creating music in that you have to keep doing it. You have to consistently produce new music, just like you have to consistently create new marketing content to keep your audience engaged. Keep this tip in mind: everything you or your band does can be a promotional opportunity. Writing lyrics on a napkin, jamming in the garage, or performing in concert, all give your fans the chance to know you, connect with you and follow you. And the even better news is that the tools at PosterMyWall enable you to take that content and create powerful print and video promotional materials easily, quickly and affordably.
Check out how PosterMyWall has helped other musically inclined people market their sound, and even find a creative market on PosterMyWall.
Joe Wisniewski (Cam Music):
"Regardless of the platform I use to promote my events, the number of views has increased massively in comparison to the DIY posters used in the past. Promotions that included video templates skyrocketed."
Joe Wisniewski is a professional entertainer and event organizer. He organizes gigs, karaoke nights, music lessons and numerous other events at a variety of local entertainment venues.   PosterMyWall is his go-to design tool for promoting his events.
"When promoting gigs and other events, I'd spend hours putting together posters, flyers, and other Facebook ads. PosterMyWall has a template for everything I need –  gigs, karaoke, themed disco's, Oktoberfests, music lessons, you name it!"
Brad Grauer (musician and live music fanatic):
As a musician, Brad was always drawn to and intrigued by music posters. It wasn't long before he found that he was also attracted to the work of talented designers on PosterMyWall.
"I didn't start out as a designer… actually, I grew to be one with the help of the options available on PosterMyWall.

"The tools and features on the site have given me endless options to reach deep into the bucket of creativity to deliver stand-out work. People often compliment my work, and it's nice to know people notice the work I've designed and shared with the community."
Arielle Danos (Southern EarthTones):
Arielle Danos, her husband Dexter 'Dirty' Danos, and their band, Southern EarthTones, bill themselves as the most versatile band on Bayou Lafourche in Louisiana. What started as a duo playing the smallest dives in the bayou, grew initially by word of mouth, and then by their keen promotion, to be a band opening for acts like Sammy Kershaw, as well as playing in the French Quarter.
"I have yet to find another site so easy to use, with the same quality resources and tools. PosterMyWall gets you noticed with creative and professional designs."
Not only does Arielle continue to use PosterMyWall to create advertisements for their band, but she also joined PosterMyWall's Design Community in 2014. Her band templates are wildly popular and serve as creative inspiration for musical groups designing their promotional materials using PosterMyWall.
Marilyn Harang (biggest fan and graphic designer for South 46 Band):
Marilyn Harang is her husband's biggest fan. He and his bandmates from San Jose, CA make up the Allman Brothers tribute band, South 46 Band.  When the popular band's graphic designer got too busy, Marilyn stepped in and took over. Using PosterMyWall's design tools Marilyn can easily, affordably and successfully create eye-catching graphics that keep South 46 Band fans connected and coming back for more.
"It's the talent that makes the fans follow us from venue to venue, but it's the flyers, posters and Facebook posts that help them find us."
Written Hour Productions (Event Planning):
Written Hour Productions brings show-stopping musical events to towns surrounding Pittsburgh, PA.  Their Facebook page sports video clips and eye-catching graphics that mean their events are well publicized and very well attended.
"PosterMyWall has provided an easy and cost-effective way for us to promote our concerts. This is hands down the easiest poster making site out there. We use it about once a month, and it takes no time to find a design to edit and make our own."
DaniRose (HoneyCounty):
Bringing together their unique sound of "pop hooks, southern twang, and California cool," the female musical trio, HoneyCounty, are hitting it big after starting small. The three musicians/singer-songwriters came together after meeting in Los Angeles and launching their unique sound. Since then, the band has received praise from Rolling Stone Magazine and even played alongside big-time bands like Lady Antebellum and Old Dominion.
DaniRose relied on PosterMyWall to get the word out as the band gained traction and continues to use PosterMyWall to announce Honeycounty's latest gigs.
"Can't wait to perform August 19 with my band @honeycounty & Thompson Square! (sidenote to all the entrepreneurs and musicians out there hustling like me- I made this poster using @postermywall and it was super easy!"
You create great music. And you're probably reading this blog because you want the world to know it. Get the word, or rather, the music out, by taking advantage of the promotional tools available at PosterMyWall. They are cost effective and enable you to make the most of powerful promotional platforms like social media, as well as traditional marketing channels, like putting digitally designed posters on walls. Let PosterMyWall help you be the design artist that promotes you as a musical artist.
---
Captivate your audience with engaging videos, personalized for your band, with this 70% discount. Simply enter the following promo code at checkout to avail discount:
DIGITALMUSICNEWS