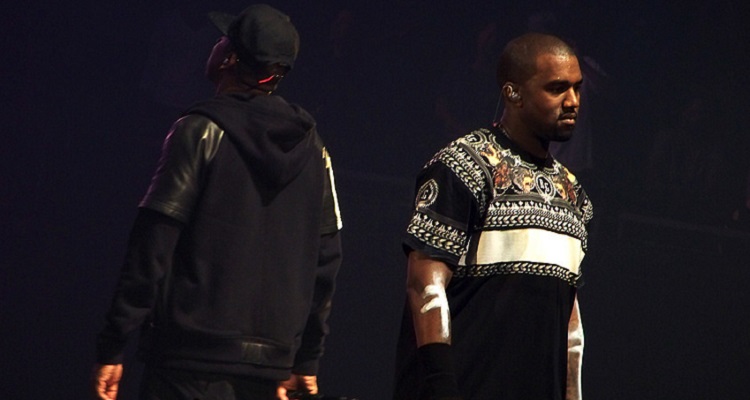 Taking a jab at Sony Music's EMI Music Publishing division and Universal Music Group (UMG), Kanye West told his fans that artists should have the right to purchase their publishing catalog whenever they want.
There's just one problem.  Typically, artists can't.  And, taking multi-national corporations to court doesn't mean they'll immediately hand back your valuable collection of masters.
Kanye told his followers on Twitter,
"I went to go buy my publishing from Sony/ATV, and they said it was $8 million, $9 million.  And when I went to buy it, they told me no, I couldn't buy my publishing…  I have the money to buy my publishing, and they told me that I couldn't buy my publishing."
Taking both EMI and UMG to court in two separate lawsuits, the producer/rapper evoked slavery imagery.
"Mr. West has been working for EMI under the 2003 contract for over 15 years.  EMI has unjustly earned millions of dollars by tethering Mr. West's songwriting efforts for an unlawful term.  He's entitled to his freedom."
Unfortunately, that didn't work.  EMI quickly countersued in New York.
The Sony-owned music publisher claims Kanye's claims are blocked by copyright law.  The rapper/producer had willingly signed a contractual commitment with the music publisher.  Additionally, "Mr. West" never provided EMI with any 'personal' services.
Federal law allows copyright reversion.  Yet, this option doesn't become available until 35 years after the work is first published.  Kanye is hoping to force EMI into that reversion much sooner.
Now, in a desperate situation, the producer/rapper has pleaded with a federal court to dismiss EMI's countersuit.
Will federal courts listen to Kanye?
Last week, Kanye filed a motion to have EMI's countersuit tossed.
According to him, the countersuit doesn't belong in New York.  He had first filed the lawsuits against EMI and UMG in California.
Analyzing Kanye's strategy, California – not New York – has a favorable provision for artists.  In the state, people can't be 'forced' into service contracts longer than seven years.  Kanye first worked with EMI in 2003.
It remains unclear whether the state law applies to recording and publishing contracts, however. West accused EMI of attempting "to escape" California's labor laws.
Again, evoking slavery imagery, Kanye wrote,
"EMI has sought to tie him to an exclusive publishing agreement that could last for years, if not his entire life."
His attorneys agreed,
"Even if Mr. West's publishing contracts with EMI were not unfair (they are), even if their terms valued Mr. West's contributions in line with the enormous global success he has achieved (they don't), and even if EMI had not underpaid Mr. West what they owe him (they have), he would be entitled to his freedom."
Kanye first signed the contract with EMI in 2003 while recording his debut album, The College Dropout.  This gives the publisher a significant share in copyrights and revenue for his works.  EMI had provided Kanye with "substantial" advance payments totaling tens of millions of dollars.
Responding to the lawsuit, the music publisher said it remains in settlement negotiations with Kanye West.  Both parties "have continued to make progress."
---
Featured image by U2soul (CC by 2.0).