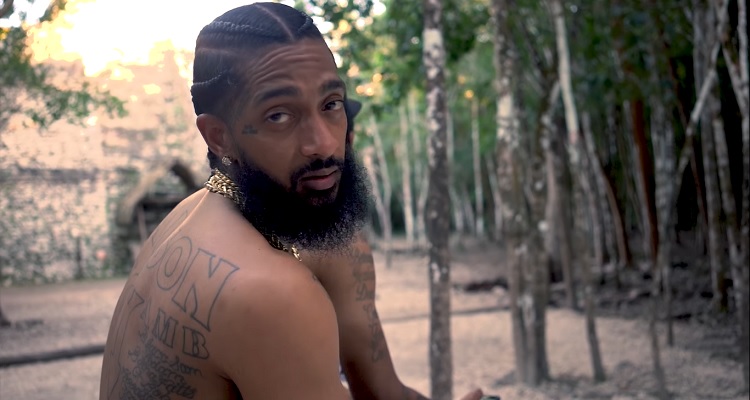 Outside of the Nipsey Hussle's clothing store on March 31st, 29-year-old gang member Eric Holder shot the legendary rapper to death.
Hussle – real name Ermias Joseph Asghedom – had spent the afternoon signing autographs, taking photos alongside his fans, and chatting with his friends.
Following the shooting outside of his store – The Marathon Clothing at Slauson Ave. and Crenshaw Blvd. in Los Angeles – EMTs quickly rushed the rapper to the hospital where doctors pronounced him dead.
Initially, police believed the shooting was gang-related.
Now, the true motive has come to light.
A conversation about snitching leads to Nipsey Hussle's murder.
Yesterday, a judge in Los Angeles ordered the release of 515 pages of grand jury testimony.
The documents reveal that Hussle and Holder had a four-minute conversation prior to the shooting.  The conversation soon turned to Holder's alleged "snitching."
Deputy District Attorney John McKinney told a grand jury last month,
"Apparently, the conversation had something to do with [Hussle] telling Mr. Holder that word on the street was that Mr. Holder was snitching."
McKinney explained the conversation "wasn't particularly intense… [nor] particularly belligerent."
Yet, the snitching accusation set off Holder, who quickly left the parking lot.  The deputy district attorney added, "it moved Eric Holder to a point of wanting to return to the parking lot and kill Nipsey Hussle."
Following the talk, Holder ordered chili cheese fries from a burger shop close by, got in his girlfriend's car, and left.  He later returned with two guns in both hands and shot the rapper.
Nipsey Hussle received at least ten gunshot wounds.  Before fleeing the scene, Holder kicked the rapper in the head, prompting Nipsey's final reply,
"You got me."
Before the release of the grand jury testimony, Holder's public defender had begged the judge to keep them a secret.  This, the attorney said, would jeopardize Holder's right to a fair trial.
The testimony also includes the getaway driver's account who was dating Holder at the time.  In exchange for her testimony, authorities granted her immunity.
After being accused of snitching, the unnamed woman heard Holder's response to Nipsey.
"Cuz, have you ever snitched?"
Then, driving around, she saw Holder load a gun.  Ordering him to put the gun away, his girlfriend warned,
"You're not gonna do a drive-by in my car."
She had pulled over so Holder could eat.  Then, after telling his girlfriend he would quickly return, she heard two gunshots.  Holder then returned to the car furious and upset.  He told the woman to drive away under the threat of physical assault.  She dropped him off at his cousin's house.
Prior to the shooting, Hussle and Holder had greeted each other.  Hussle reportedly cautioned Holder, saying,
"Man, you know, they got some paperwork on you.  Like you need to maybe take care of that."
Explaining why Hussle accused Holder of snitching, Herman Douglas, a worker hired by the rapper, said,
"[Hussle was] basically telling the guy you need to be careful."
Speaking about the rapper's final moments after the shooting, Douglas added,
"He was still breathing, you know, like biting his tongue a little bit, then he — he was just trying to fight it, trying to gain consciousness, and he was going out.  And he just kept — he just kept fighting."
Following the testimonies, the grand jury indicted Holder with one count of murder, two counts of attempted murder and assault with a firearm, and one count of possession of a firearm by a felon.  He remains behind bars on $6.5 million bail.
---
Featured image by Nipsey Hussle (YouTube screengrab.)