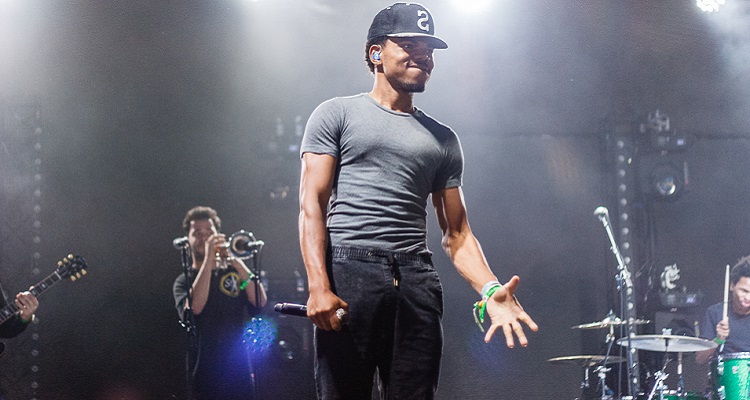 On Friday, Chance the Rapper released two of his earliest mixtapes – 10 Day and Acid Rap.
Across multiple streaming services, including Spotify, Apple Music, TIDAL, and Deezer, old and new fans alike could enjoy the rapper's works.
This comes ahead of his next album, set to drop later this month.
There was just one tiny problem – they couldn't enjoy a popular hit song from his mixtape, Acid Rap.
Fans can't stream 'Juice' as the singer was unable to clear the Donny Hathaway and John Lennon sample used in the song.  Instead, they'll find a 30-second audio clip from the rapper.
Spotify only considers a song streamed after 30 seconds.  So, inviting users to stream the charity request all the way through, Chance the Rapper says,
"Hey, so I really wanted 'Juice' to be on the mixtape, but I couldn't get it cleared in time.  But, every time you play this track all the way through, all the streaming proceeds go directly to SocialWorks.

"So, run this back and play it all the way through.  Again, I really appreciate you guys being here since day one."
Chance created SocialWorks in 2016.  Based in Chicago, the non-profit organization helps local youth through arts, education, and civic engagement.
In 'Juice' – readily available on YouTube without clearance problems – the rapper uses Hathaway's cover of 'Jealous Guy.'  Lennon had originally written the song for his 1971 album, Imagine.  Hathaway's cover is used for the backdrop of the beat of 'Juice.'
According to Billboard, Lennon's estate has "rarely…approved" the late singer's catalog for sample clearances.  Representatives for Yoko Ono have yet to respond.  This means users won't likely find the song on approved music streaming platforms anytime soon.
Hinting at the release of his upcoming album, Chance the Rapper told Beats 1 Radio,
"I think it's just time for the access to be real access.  That's always what I've been about… I wanted everyone to have access to it and I don't like having things be blocked by the sale.  At that time, the climate was different."
He originally uploaded the albums onto Audiomack, before other platforms like SoundCloud and DatPiff.
---
Featured image by Daniel Gregory (CC by 2.0).