Lil Nas X is gay and he thought he made it obvious.  Apparently not.
The country trap rapper recently appeared on stage with Billy Ray Cyrus to sing "Old Town Road" at the BET Awards.
During the last day of Pride Month on June 30th, Lil Nas X pointed to lyrics from his song "c7osure," from his debut EP. The rapper tweeted,
"Some of y'all already know, some of y'all don't care, some of y'all not gone fwm no more. but before this month ends i want y'all to listen closely to c7osure."
"This is what I gotta do, can't be regrettin' when I'm old," he raps in "c7osure."
A few hours later, Lil Nas X followed up that tweet with the cover of his eight-song EP called 7. "Deadass thought I made it obvious," the rapper tweeted, highlighting a rainbow segment on the album's cover.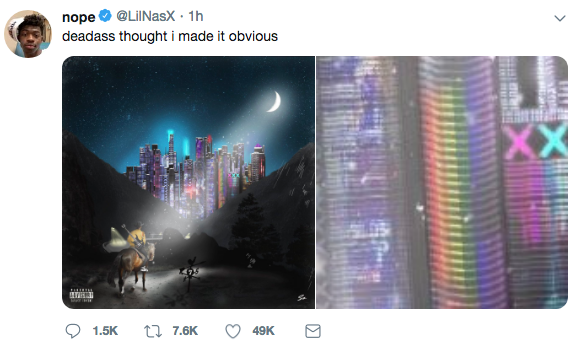 Since announcing he's a member of the LGBT community, the rapper lost a few fans. Others rallied around Lil Nas X following the announcement.  The rapper confirmed he was tired of being closeted about his personal life. He told no one he planned on revealing himself during the final days of Pride.
That hasn't stopped the bigots from claiming they can no longer enjoy his music as a gay artist. The rapper responded to these claims by tweeting the same argument that replaces the word 'gay' with 'black.'
It's powerful proof that LGBT artists face mounds of discrimination no matter how popular they become. Lil Nas X is taking the homophobic comments in stride, but it sucks that it's 2019 and this is the response a member of the LGBT community gets.
Perhaps we'll see a Taylor Swift and Lil Nas X collaboration sometime in the future? Swift's positioned herself as a huge ally to the LGBT community with her latest single, referencing activist organization GLAAD.