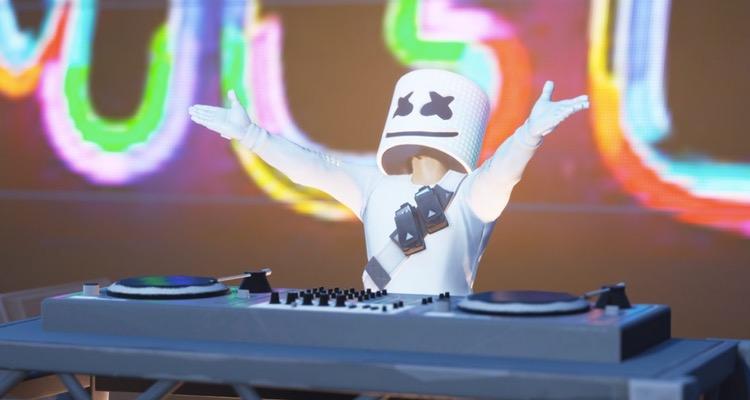 Marshmello is once again turning to video games to help promote his latest EDM album.
A new mobile game called Marshmello Music Dance has launched for Android and iOS.  The game was developed by Vietnamese developer Gamejam and is available free-to-download.  The game is rhythm-based, with fans tapping along to songs from Marshmello.
As you might expect, the songs featured in the mobile game come from Marshmello's new album, Joytime III.  Fans of Marshmello got access to the songs early by downloading the app to listen before its release.
The game features in-app purchases and virtual gems for monetization.
With new songs available in the game before streaming, fans got an exclusive taste of the music by downloading the game.
Joytime III also got a spot in YouTube's 'Spotlight Stories,' which traces the story behind the album's creation.  The 26-minute mini-documentary is the longest in the series and focuses on positive aspects.  The story is told by Moe Shalizi —Marshmello's manager — since the Mello character doesn't speak.
The video, entitled 'More Than Music,' also includes testimonials from other artists and performers.  Tiesto, Martin Garrix, Logic, Ninja, and The Chainsmokers are all on hand.
The artist spotlight also spends some time focusing on Marshmello's popularity in India.  Further on the positivity tip, locals wax about seeing Marshmello as a force for positivity and acceptance.
You can view the full mini-documentary below.
Marshmello's meteoric rise in the EDM community was helped along by a set in Fortnite last year.
His music has over 2 billion streams on Spotify alone and over 40 million monthly listeners.  That makes the EDM artist the fourth most streamed artist on Spotify.
Meanwhile, the smash hit "Happier" with Bastille is crushing it.  At the time of writing, the song's cumulative streams are rapidly approaching one billion.
Elsewhere, Marshmello's Las Vegas residency is a two-year agreement at KAOS Dayclub and Nightclub at the Palms Casino Resort. That deal is estimated to be worth $60 million.