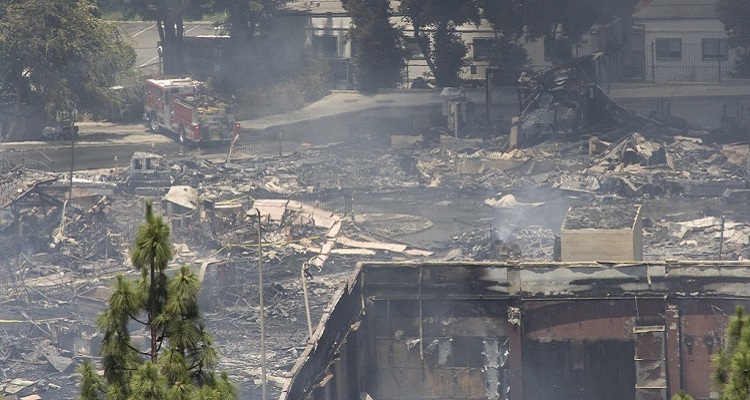 So, just how bad is the damage following the 2008 Universal Studios fire?
According to the New York Times, very, very bad.
With the fire destroying Building 6197, which housed master tape catalogs of numerous labels acquired by Universal Music Group (UMG), over 500,000 master recordings were lost.
For years, the major label reportedly hid the event from music artists on its roster.  Affected artists include Soundgarden, Louis Armstrong, Ella Fitzgerald, Limp Bizkit, Gwen Stefani, and Blink 182, among many others.
The news may have also stalled parent company Vivendi's sale of up to 50% of UMG.  In addition, an artist collective has filed a $100 million lawsuit against the label.
But according to Universal Music Group, the fire wasn't that bad at all.
Allegedly fielding requests from over 275 artists, the fire only destroyed 22 'original masters' associated with 5 musicians.  In addition, the label lost 424 music-related assets.
While this figure doesn't sound so bad, just dig a little deeper.  In 2008, UMG filed a contentious lawsuit against NBCUniversal.  The major label claimed "millions" in damages.
This indicates a much higher loss than just 22 masters.
So, who's right?
Now, following the 'publication' of the 'true loss,' UMG has targeted the artist collective lawsuit.
Universal Music plays with fire.
In a statement sent to Billboard, Randy Aronson, former Vice President of and Senior Director of Archives at Universal Music Group, revealed his former company has once again "downplayed the losses."
"[UMG's estimates are] very, very low."
He previously confirmed the 2008 Universal Studios fire led to a total loss of 118,000 to 175,000 music-related assets.  These include 'historic catalogs' from Chess, ABC, Impulse, A&M, and many more labels.
"By now they should have a fairly decent macro view of what happened with the fire.  It's all there, it's all been documented, it's been 11 years.  Yes, [current UMG officials, including Chief Archivist, Pat Kraus] are new to this.  But the fire isn't new and they're in charge of it.  That's disappointing."
Responding to Kraus' memo sent on behalf of CEO Lucian Grainge stating the label only lost 22 masters, Aronson said he compiled a "god list" of assets destroyed in the fire.
"It should be a definitive list.  'Twenty-two losses,' to me, is as insulting as 'we really didn't lose anything.  Nothing to see here.'"
That didn't affect a follow-up statement from Kraus, who continues to downplay the true losses.
UMG's Chief Archivist explained,
"Our work is just beginning."
Firing back at the lawsuit brought on by the estates of Tom Petty and Tupac Shakur, UMG wrote in a court filing,
"The Complaint includes two breach of contract 'Claims for Relief' but conspicuously avoids reciting any language from the recording agreements that Plaintiffs accuse UMG of breaching.

"The Complaint does not and cannot plead any facts plausibly showing that UMG breached any provision in any contract."
In short, the major label argues it completely owns the rights to the master recordings.  So, artists and their estates can't sue.
The company's lawyer, Scott Edelman, wrote that all artists signed typical contracts.  These state "all masters … shall, from the inception of their creation, be the sole property of [UMG], in perpetuity, free from any claims by you."
In fact, the major label apparently disclosed the real losses of the fire years ago.  So, a judge should dismiss the $100 million lawsuit as the statute of limitations has expired.
Continuing on the argument the major label owns the master recordings, Edelman concluded,
"Here, the Complaint pleads no facts showing that UMG undertook a conscious and deliberate act to destroy the recordings; and indeed, any such allegation would be implausible, because UMG was deprived of its own property as a result of a fire that it did not start."
The hearing on the motion to dismiss will take place on November 4th.
---
Featured image by pinguino k (CC by 2.0).