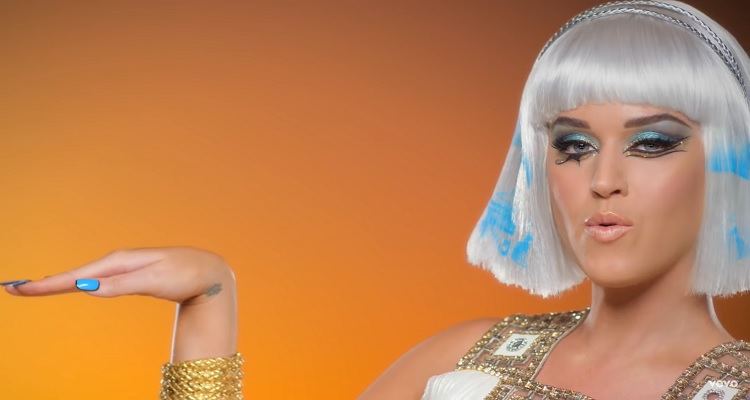 Did Katy Perry and her musical team knowingly steal a Christian rapper's song to create 'Dark Horse?'
Update (July 29th): A California jury has now ruled that Katy Perry is guilty of copyright infringement on "Dark Horse" — full details here.
According to Perry, no.  Of course not.
Yet, according to rapper Marcus Gray and renowned musicologist and professor Todd Decker, yes.  Yes, she did.
On Friday, Decker, a professional musician as well, took the stand in the closely-watched plagiarism trial.
Decker said he's dedicated his career to studying 'musical borrowing' – especially rhythm, melody, notes, and the overall combination of elements in a musical phrase.  Decker then suggested Perry outright stole Gray's 'Joyful Noise' on 'Dark Horse.'
"The most important tool is listening."
The music professor came to this conclusion after listening to Gray's 2008 song and Perry's 2013 track "countless times."
The case first started in July 2014, when Gray, Emmanuel Lambert, Chike Ojukwu, and Lecrae Moore sued Perry.  Filed at a Missouri federal court, they accused the singer, Universal Music's Capitol Records, and the 'Dark Horse' writers of knowingly infringing on 'Joyful Noise.'  The case was eventually moved to the U.S. District Court for the Central District of California.
On the stand, Decker reportedly sang the pitch of each song.  He told the jury both songs' eight-note 'ostinato' share "five or six points of similarity."  This includes the pitch, rhythm, texture, patterns of repetition, melodic shape, and timbre.
Decker added the "descending melodies" remain unique.
"I have not seen another piece that descends in the way these two do."
He explained that Gray wrote the 'Joyful Noise' in the key of A.  Perry's team, meanwhile, wrote 'Dark Horse' in B-flat, only a half-step difference.
"Audibly, it's not very different."
Defending herself on the stand, Perry said she serves as a "messenger of authenticity."  She has also never heard of Gray's song.
"We take seriously the art and craft of songwriting."
Lambasting Decker's damning testimony, Perry's attorneys argued that since Chike Ojukwu created the beat of 'Joyful Noise,' Gray has no legitimate copyright claim in the case.  They also called on New York University professor Lawrence Ferrara.  He explained the 'similarities' between two different Christmas songs – 'Jolly Old St. Nicholas' and 'Merrily We Roll Along.'
Last August, U.S. District Judge Christina Snyder denied Perry and Capitol Records' request motion for summary judgment.
---
Featured image by Katy Perry (YouTube screengrab).