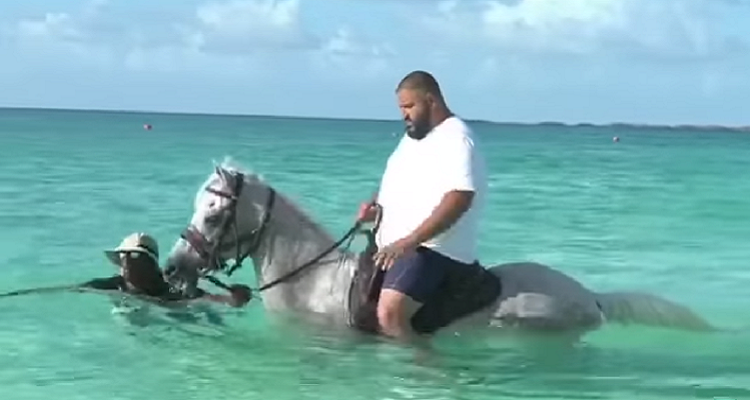 Apple Music has unveiled its first 'Artist-in-Residence.'
Confirming the news, DJ Khaled posted a video of himself on Instagram with a "Major Alert" notice.
"Bless up @applemusic for making me the very first artist-in-residence ever for @applemusic ?."
As the artist explains, the new title grants Khaled complete creative control over Apple Music's most popular playlists.  This includes the reintroduction of the popular Office DJ playlist, now dubbed the Office DJ Khaled playlist.  Songs featured include works from Jay-Z, Buju Banton, Travis Scott, Beyoncé, Drake, Chris Brown, Lauryn Hill, and Khaled's own tracks.
The playlist's description reads,
"Any workplace could use a little pick-me-up.  And few people are better at elevating heart rates and boosting productivity than DJ Khaled, Apple Music's first-ever artist in residence.  He's staging a corporate takeover with this exclusive, handpicked playlist, serving up new and old classics from hip-hop, R&B, reggae, and pop – Khaled's areas of expertise – specifically designed to carry everyone from opening bell through end-of-day air horn."
In addition, the 'Artist-in-Residence' title means he will now discover and "break new artists in the process."  On Instagram, DJ Khaled told "all record labels and artists" to "hit me up."  He'll also introduce new featured playlists each month.
The announcement underscores Apple Music's new strategy to attract listeners away from rival platforms.
To further the service's appeal around the world – where the platform has historically struggled – Apple Music unveiled Up Next Live.  The summer concert tour features a series of 'intimate' performances from Up Next artists at select Apple Stores.  These include Milan, San Francisco, Brooklyn, Paris, London, Chicago, and Washington, DC.  Performers include Bad Bunny, Daniel Caesar, Khalid, Ashley McBryde, King Princess, Lewis Capaldi, and Jessie Reyez.
In addition, returning to the much-maligned 'exclusives' game, Apple Music now "forms partnerships" directly with up-and-coming artists.
On June 28th, the music streaming service exclusively broadcasted songs from French rap duo, PNL.  Similar to 'album exclusives,' Apple Music subscribers had access to 'Ryuk,' 'Like No Two,' 'Siberia,' and 'Bang' for a week before its availability on rival platforms.
Eddy Cue, Apple's Senior Vice President of Services, explained the company will create "special relationships" with artists the platform shares "affinities" with.  Rolling Stone later revealed Apple Music had signed PNL to a wide-ranging partnership deal.  This includes co-branded videos and promotions.
A source told the news outlet Apple Music will soon unveil similar deals down the line.  DJ Khaled's 'Artist-in-Residence' announcement is likely the first of many future 'exclusives.'
---