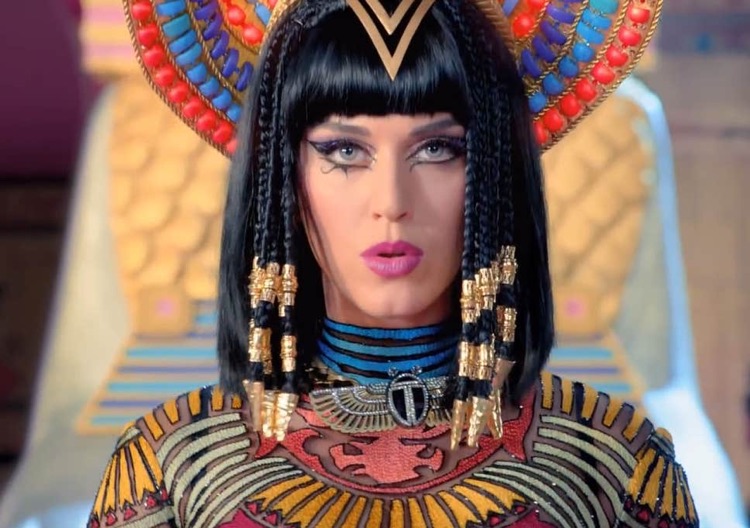 Katy Perry has lost a massive copyright infringement lawsuit involving 'Dark Horse'.
A California federal court jury has ruled that Katy Perry's "Dark Horse" was stolen from Christian rapper Marcus Gray, who performs as 'Flame'.  The decision, issued Monday afternoon, quickly moves the proceedings towards the damages phase, where Perry could face millions in penalties and the forfeiture of future earnings from the song.
The trial lasted for about one week before today's decision was issued.  It's unclear if Perry will appeal the decision, though Perry's attorneys are petitioning U.S. District Judge Christina Snyder to toss the jury's decision as meritless given the evidence presented.
The lawsuit was lodged by Gray, Emmanuel Lambert, Chike Ojukwu, and Lecrae Moore; the group's song, 'Joyful Noise,' was originally released in 2008.  "Dark Horse" was released in 2013.
Also found liable were Lukasz Gottwald (aka Dr. Luke), Karl Martin Sandberg (aka Max Martin), Henry Walter (aka Cirkut), songwriter Sarah Hudson, and rapper Jordan Michael Houston (aka Juicy J), who appeared as a featured artist on the song.  Capitol Records, Warner Music, Kobalt Publishing and Kasz Money Inc. were also named defendants.
Throughout, Perry and her attorneys argued that 'Dark Horse' was entirely original, with only vague similarities between the songs.
Perry stated that she'd never heard of Flame's track.  Similarly, track producer Dr. Luke also claimed that he'd never heard of the song, while pointing to the Flame's relative obscurity.
A side-by-side comparison of the track certainly reveals striking similarities (check out a comparison below).  But early on, Perry's legal team argued that 'Joyful Noise' was simply too obscure to be noticed — much less copied.  Any similarities were simply a coincidence.
Earlier, however, U.S. District Judge Christina Snyder refused to toss the case, pointing to substantial views of 'Joyful Noise' on platforms like YouTube and even MySpace.  "[Plaintiffs] have demonstrated a triable issue of fact as to access because 'Joyful Noise' achieved critical success, including a Grammy nomination, and was readily available and viewed millions of times on YouTube and MySpace," Snyder stated.
Gray and his legal team countered that Perry, Dr. Luke, or others involved in the writing process may have heard 'Joyful Noise' during the Grammys, where it was nominated prior to the release of 'Dark Horse'.  That sounded like a stretch, though Snyder felt a trial was merited.
Still, 'Joyful Noise' has little notoriety compared to 'Dark Horse'.
On YouTube, "Joyful Noise" has approximately 3.6 million views, while 'Dark Horse' has 2.6 billion, making the latter one of the biggest songs ever on YouTube.
Similarly, "Joyful Noise" has 3.37 million plays on Spotify, compared to 609 million for "Dark Horse".  Incidentally, plays of "Joyful Noise" are now likely to surge given the court finding, though perhaps for all the wrong reasons.  As for reactions, we're still waiting for official statements and reactions from within the industry, but the finding is undoubtedly creating another questionable verdict to chew upon.
And, a sense that arbitrary copyright verdicts can drop on anyone's head — even if the commonalities are coincidental.