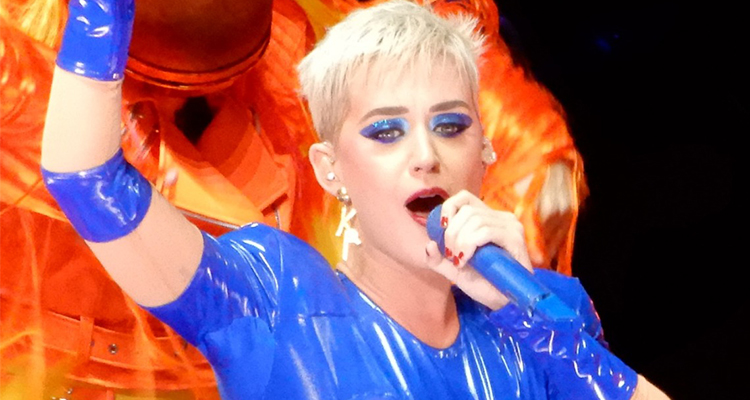 So, how much did Katy Perry actually earn from 'Dark Horse?'
Update: Katy Perry, Capitol Records, Dr. Luke, Max Martin, and other 'Dark Horse' collaborators have been saddled with a $2.7 million fine by a California jury.  Full details on the decision here.
According to Christian rapper Marcus Gray's attorneys, $41 million.  Universal Music's Capitol Records allegedly received $31 million from the track's success.
According to Capitol's defense attorney, however, the label only brought in around $630,000 in profit after factoring in costs.  Perry's legal team also says that 'Dark Horse' only netted the singer $3.2 million, excluding $800,000.
Now, with the first day of the damage deliberations over, both sides have explained how much Gray should – or shouldn't – receive.
Making a 'Joyful Noise' over a 'Dark Horse.'
Speaking before a jury in a California federal courtroom, Steve Drellishak, a vice president at Universal Music Group, said 'Dark Horse' earned the label $12 million in revenue.  However, Universal Music spent $11.7 million to produce, promote, and distribute the hit single.  In the end, Capitol Records claimed just $629,000 in total profits.
Breaking down the costs, Drellishak revealed the label spent $13,600 for a wardrobe stylist for a single night.  In addition, Capitol spent $11,212 on hair styling for the Video Music Awards, $600 on a manicure for her appearance on Jimmy Kimmel Live!, and over $3,000 on hair styling for Saturday Night Live and The Tonight Show Starring Jimmy Fallon.
Justifying the expenses, he explained,
"It's an important part of Perry's image.  She always has to be in the most fashionable clothes and makeup.  Those are core to the 'Katy Perry' brand."
Fans purchased 1.2 million physical units of Prism, which featured 'Dark Horse.'  This netted the label $11.5 million in revenue.  Capitol brought in $9 million in digital album revenue.  Breaking down the profits earned, 'Dark Horse' generated $816,000 in physical album sales and $648,000 in digital album sales.  Katy Perry's single also brought in revenues of $9.9 million after fans streamed 'Dark Horse' 1.8 billion times.
Combining physical and digital sales along with track sales and licensing deals, Capitol Records earned $31 million in revenue.
Marketing costs totaled $1.1 million.  Prism production costs totaled around $8.2 million.
Returning to the stand, New York University professor Lawrence Ferrara told the jury 'Dark Horse' only copied 3% of the composition in Gray's 'Joyful Noise.'  He previously told the jury the similarities in both songs were a "coincidence."  Both songs had used basic notes dubbed "the building blocks of music."
In addition, Jason King, a professor at NYU Tisch's Clive Davis Institute of Recorded Music, said 'Dark Horse' was successful because of Perry's massive star power.
"Katy Perry had enormous celebrity brand value before the release of 'Dark Horse.  That kind of celebrity can drive the success of a single, because the public is primed."
Thus, the 'technical aspects' of the song's similarities with 'Joyful Noise' is a moot point.
"It's just one element of a constellation of elements that contributed to the success of 'Dark Horse."
---
Featured image by slgckgc (CC by 2.0).