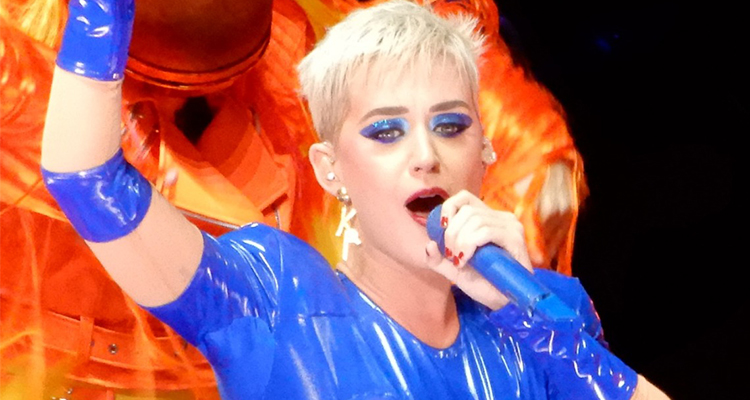 Katy Perry, Capitol/UMG, Dr. Luke, Max Martin, and other 'Dark Horse' contributors will appeal last week's $2.78 million copyright infringement verdict.
Calling the decision a 'travesty of justice,' Katy Perry's attorneys are now filing to appeal the recent $2.78 million 'Dark Horse' copyright infringement decision.  The verdict, reached unanimously on Thursday, August 1st by a jury in California federal court, was first reported by Digital Music News.
Here's a brief statement on the matter from Perry's lead attorney, Christine Lepera, on behalf of the "Dark Horse" writing and production team.
"The writers of Dark Horse view the verdicts as a travesty of justice. There is no infringement. There was no access of substantial similarity. The only thing in common is an unprotectable expression — evenly spaced 'C' and 'B' notes — repeated. People including musicologists from all over are expressing their dismay over this.
"We will continue to fight at all appropriate levels to rectify the injustice."
Marcus Gray, who performs as Flame, led the litigation alleging that "Dark Horse" lifted critical melodic sections from "Joyful Noise," while convincing a jury that Perry and her songwriting team knew about the Grammy-nominated piece before writing their own.
The writing and production team behind "Dark Horse" is considerable, and includes Katy Perry; producers Dr. Luke, Cirkut, Max Martin, guest rapper Juicy J, and lyricist Sarah Hudson.  Amongst the defendants, however, Capitol Records (and its parent Universal Music Group) will saddle a large portion of the $2.78 million penalty.
Other defendants included Kasz Money Inc., Kobalt Music Publishing America Inc. and Warner Bros. Music Corp.
The decision quickly sent ripples throughout the music industry, especially given the limited similarities between the two pieces.
That introduces the very distinct possibility of a serious music copyright trolling problem ahead, similar to patent trolling issues plaguing tech for decades.
All of which puts even more importance on the results of the upcoming appeals ruling.
The case itself is Gray et al. v. Perry et al., number 2:15-cv-05642, deliberated in the U.S. District Court for the Central District of California.