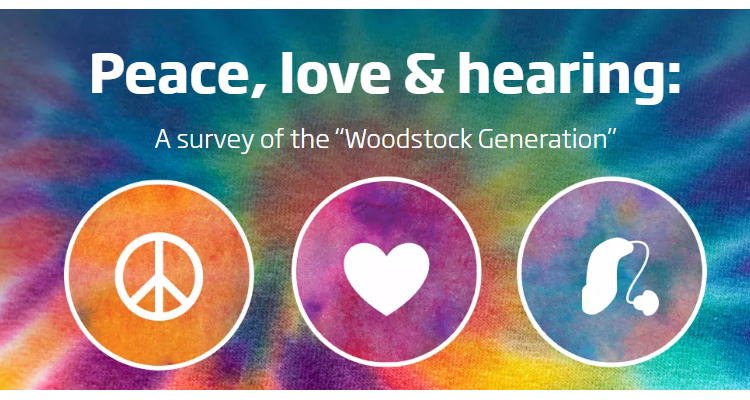 More than half of the Woodstock generation suffers from some form of hearing deterioration, according to a new survey.
The survey, conducted by the Harris Poll, involved over 1,000 U.S. adults aged between 65 and 80 — dubbed "The Woodstock Generation" by the report.  Predictably, those that reported listening to "loud or very loud music" in their youth had the highest levels of hearing problems today.
Of course, there are also plenty of people who didn't listen to blaring music in their youth, but simply have hearing issues in older age.  But Woodstock symbolized an era of music that was more intense, more culturally involved, and a lot, lot louder.  So a broader comparison with earlier generations — if that's even possible — may show elevated rates of hearing deterioration.
With the 50th anniversary of Woodstock approaching, 36% of respondents reported difficulties with hearing music on some level.
Nearly half (47%) of those rocking out in their teens reported serious issues today.  "The survey found that 47% of the Woodstock Generation who listened to loud or very loud music when they were in their teens and 20s now report hearing loss," the study relayed.
Beyond that, 52% of respondents reported experiencing "difficulty understanding what is being said in loud environments like busy restaurants at least sometimes," while 40% "have needed statements repeated in conversations at least sometimes."
70% of respondents said they wished they could hear music the way they did when they were young.
The statistics go on.  38% of respondents admitted their hearing loss impacted their relationships with family and friends, at least a little bit.
But despite a large percentage of respondents reporting trouble properly hearing music, only 12% needed to use a hearing aid.  So perhaps the problem is easily overstated, with many simply used to somewhat diminished hearing.
Still, the data suggests that even if the 50th anniversary Woodstock show was taking place, original fans wouldn't enjoy it as much.  In fact, it was entirely unclear who was planning to attend the now-canceled Woodstock reunion.
Woodstock 50 changed venues over three times and battled mountains of bad press along the way. Investors backed out, over four permits were canceled, and founder Michael Lang refused to give up until weeks before the event was slated to take place.  Ultimately, Woodstock 50 was canceled and taken out of its misery.
Performers were even freed from their contracts and Lang tried to guilt them into performing anyway. At least Lang has the Woodstock license to fall back on for selling to cannabis growers.