Slipknot frontman Corey Taylor recently revealed his thoughts on how music streaming services impact artists.
In short, he believes that musicians are being wronged by leading streaming companies, particularly Spotify.
The long version of Taylor's opinion on the matter, which came to light through multiple tweets, is that artists are being systemically underpaid and exploited by streaming giants.
Taylor responded to the complaints of the E Street Band's Nils Lofgren, who shared an image of a royalty check he received from Spotify. The check, which appeared to be legitimate and likely tied to mechanical royalties, was worth seven dollars and one cent.
Another artist, Grammy-winning producer and mixer Andrew Dawson, presented an image of a 4-cent check (yes, $0.04) in response.
Taylor voiced his frustration with what he perceived to be a lack of understanding from fans, and he also stated that legislation addressing the matter is currently being appealed by music streaming companies.
Just recently, Spotify, Alphabet/Google, Sirius/Pandora, and Amazon protested a significant increase in songwriter and publishing royalties.  Perhaps shockingly, Spotify then informed publishers that they had been overpaid in 2018, and would be forced to pay back the earlier amounts.
The 45-year-old Taylor added that "streaming is pricing artists — old AND new — out of careers." He then went on to respond to fans' questions and expand upon his position.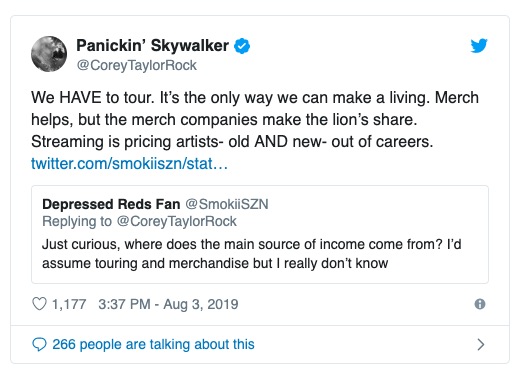 A Twitter user asked why Taylor didn't simply remove his music from these streaming services, and Taylor responded, "Because if you don't own your masters, you can do f—k all to stop what the labels do."
Years back, Prince refused to collaborate with Nas because he (Nas) didn't own his masters. Though the hip-hop legend was upset at the time, he later spoke of the considerable advantages he gained after following the advice and securing the master rights to his tracks.
It can be stated with confidence that Taylor would have benefitted from a talk with Prince.
Additionally, though Taylor's qualms might be legitimate, music streaming services aren't the only ones to blame. The number-one music streaming company, Spotify, lost about $88 million in 2018, partly because of financial mismanagement but also because of heavy royalty obligations to labels.  Subscribers and revenue increased, but royalty payments to record companies largely offset earnings.
It's hard to fault Spotify — at least entirely — for artists' lacking streaming royalties when record companies are pocketing bigger checks than ever before.  That's cramping out publishing royalties, and making it extremely difficult for artists to claim a reasonable share (especially if they aren't getting paid).