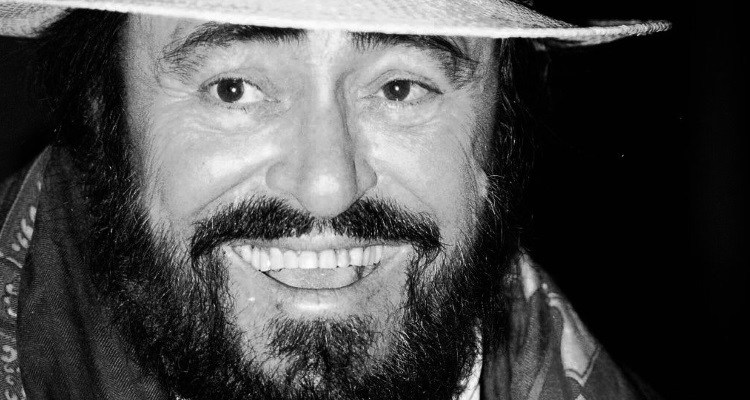 More than a decade after his death, Luciano Pavarotti will thrill audiences in a new musical.
Michael Gracey received Pavarotti's widow's blessing for the new musical. He's teaming up with a former artistic director of English National Opera to create a show inspired by Pavarotti's life.
So who plays the legendary tenor?
Or, who would dare fill those shoes — or pipes?
On that note, producer John Berry clarified that nobody will be cast for the role of Pavarotti.  Instead, his music will be brought to life by original recordings from the Italian tenor.
"It would be impossible to find somebody who could play him. As Domingo said, there was never a voice like his before him, and there probably never will be."
Nicoletta Pavarotti has been famously standoffish about her husband's story. Reports say she was so stunned by the musical, she gave creators access to a private archive. The archive included everything from letters and film footage to outfits worn by the late singer.
Gracey will be using cutting-edge technology to create the musical. But how Pavarotti will appear has not been made clear. Holographic technology and CGI have been used to re-create other famous deceased stars.  In one notable example, Gracey transformed Hugh Jackman into P.T. Barnum for the 2017 hit musical, The Greatest Showman.
Pavarotti is known as one of opera's greatest showmen.
He wanted to be remembered as someone who brought opera to the people.  His Three Tenors concerts with Domingo and  José Carreras packed auditoriums the world over.  Pavarotti was also an avowed humanitarian who raised hundreds of millions of dollars for charity.
As for the upcoming production, expect it to be big.
"This is not an opera, or for a niche market. This is for a wide popular audience. We really wanted someone who could bring something different to the stage, who had great flair, a really individual imagination and was at the cutting-edge of technology."
Several producers have sought to obtain the stage rights to Pavarotti's lifetime over the years.  It wasn't until Gracey pitched his idea for a musical to Nicoletta that she became interested.  The project is intended for a wide audience and has the full support of Universal Music Group, the late singer's record company.