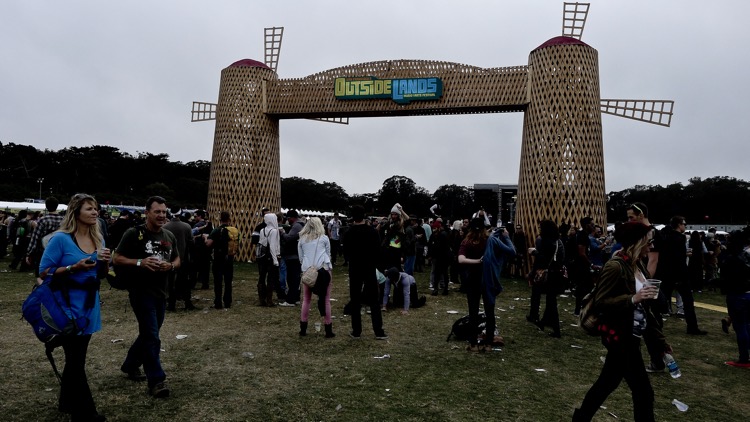 SF-based music festival Outside Lands will become the first to allow attendees to purchase and use cannabis on-site.
Per Outside Lands' website, ticketholders will be able to purchase cannabis "from multiple locations within Grass Lands," a small area that can be accessed through the space surrounding the main stage.
However, customers cannot use these products wherever they please.  Rather, they must travel to one of Grass Lands' three "designated consumption areas."  This clear-cut requirement is also stated on Outside Lands' website:
"These are the only permitted locations within Grass Lands to smoke or vape cannabis products."
Once again, Outside Lands is the first major music festival to let attendees purchase and use cannabis on the concert grounds. Other festivals, including Coachella, expressly prohibit attendees from possessing and/or using cannabis in the concert area.
It should be noted that while cannabis can be used at Outside Lands (in Grass Lands, of course), alcohol and tobacco products — including vape pens — are prohibited.
Additionally, customers will be allowed to purchase a maximum of seven grams of non-concentrated cannabis or two grams of concentrated cannabis per day.
Outside Lands will be held in San Francisco's Golden Gate Park. The three-day festival is set to begin on today, Friday, August 9th; festival gates will open at 11 AM PST, and music will be played from 12 PM until 10 PM. An abundance of high-profile artists, including Paul Simon, Blink-182, Childish Gambino, Twenty-One Pilots, Lil Wayne, and many others, will perform for fans.
The San Francisco festival is unique in that attendees of all ages will be admitted. A three-day general-admission pass is available for $385.
Moving forward, it'll be interesting to see how competing music-festival promoters respond to Outside Lands' offering cannabis to guests. With state and local governments on board, and with all applicable laws being followed, it seems that the planners are prepared to make a windfall of legal cash — and please a large portion of ticketholders.