After a seemingly-successful test in Norway last year, Spotify will raise prices across Scandinavia.
An initial report suggests that Spotify will increase family plan pricing by about 13% across Scandinavia.
Sources to Bloomberg tipped the increase, which has yet to be announced. The test in Scandinavia does not mean that Spotify will increase prices permanently.
Spotify declined to comment on the story.
Spotify already has a strong presence in Scandinavia, thanks to its roots as a Swedish company.  Accordingly, the price hike could be a way to boost revenue in a region where the service is firmly entrenched, and price sensitivity is lower.  The prevailing theory seems to be that few will notice the price increase, and the move would boost revenue.
"We've got you by the balls…"
Early investor Sean Parker described a strategy back in 2010 that may be coming to fruition.  Once you have enough playlists and your entire collection tied to Spotify, Parker brashly declared that "we've got you by the balls."  Parker was originally referring to converting .mp3 downloading customers to streaming platforms, and it's a strategy that has worked well as digital downloads have plummeted.
Spotify may feel that its pricing is too generous on its family tier, which makes it ripe for experimentation.  The current family plan costs about $15/month for five people to use the service.
Many people split this cost among friends to cheapen the service. Spotify has tested a family plan that offers only two people for around $14/month, and has even imposed IP-based checks to crack down on fake families.
The price hike may help Spotify raise revenue, which is a major imperative for Wall Street (not to mention the sustainability of the company).  The average price paid by Spotify subscribers has declined for a few years, thanks partly to the growing use of family plans.
You can see that decline clearly from 2015 to 2018 in this Bloomberg chart.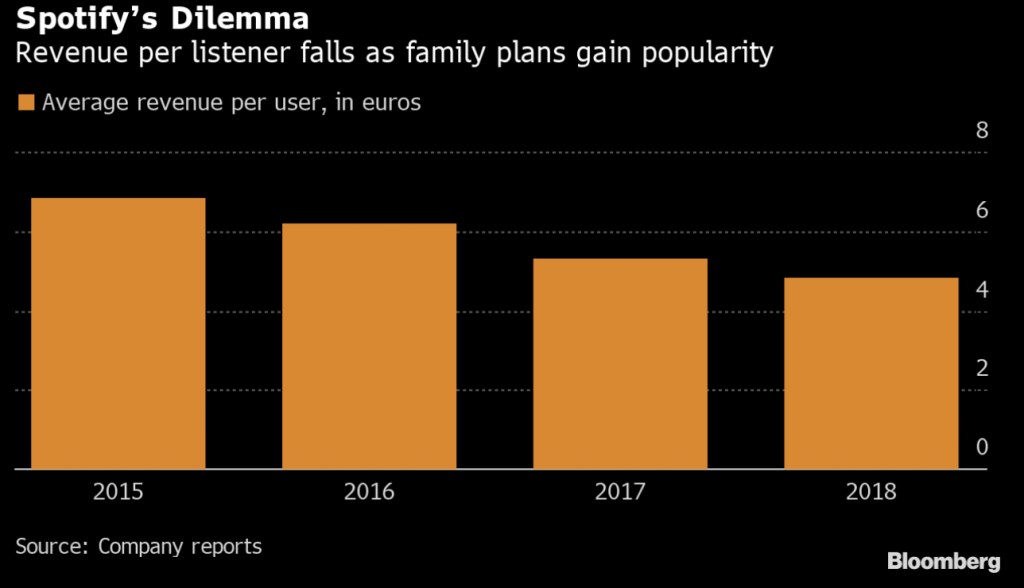 Spotify has over 108 million paying customers across the globe. The service continues to grow, and its next most significant rival is Apple Music, which has around 60 million subscribers.
Despite the huge subscriber numbers, Spotify still loses monstrous amounts of money.  Even past 100 million, the company is still in its growth stage and relies on trial periods and discounts to keep customers.  Some analysts believe the addressable market for streaming music is at least one billion people — which sounds good to us.