Lil Wayne tops the BlingDex Charts for Rap Music Videos.
The following guest post comes from Betway.
Music videos allow performers to create a real spectacle, often by spending big on clothes, cars and jewelry. This is particularly true in the genre of rap music.
It used to be difficult to quantify just who portrayed the most luxurious lifestyle in their music videos, but the Betway BlingDex charts now provide a definitive answer.  This ranking system, derived from an analysis of 40 Billboard Top 100 rap videos, reveals that Lil Wayne's 'Lollipop' is the blingiest of them all.
BlingDex values are formed from the clothing, housing, vehicles, production value, and, of course, the bling displayed in each video.
Every flashy item is given a monetary value, adding up to create some eye-watering sums. Lil Wayne's 2008 track, which posthumously featured vocals from Static Major, accumulated nearly twice the BlingDex value of its nearest competitor, 50 Cent's 'Candy Shop'.
Here is the top ten of the BlingDex in all of its exorbitant glory.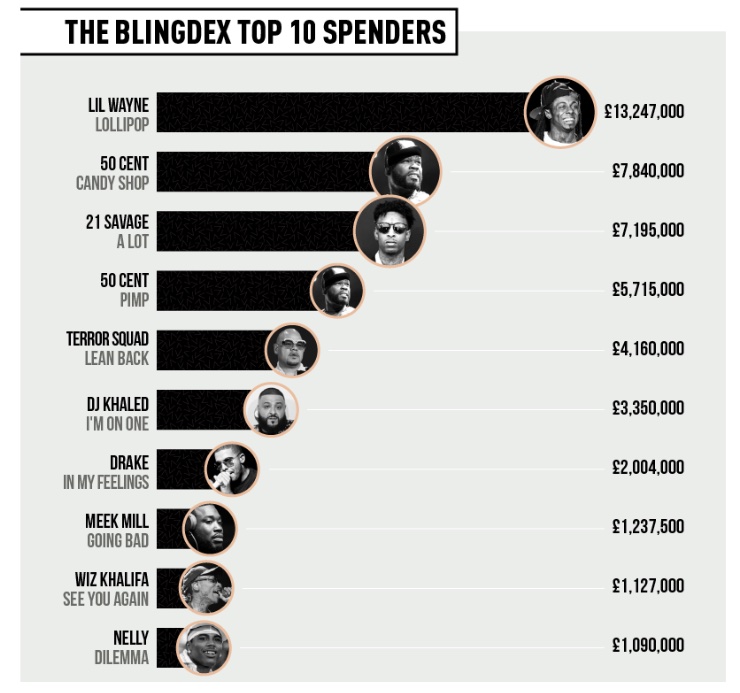 The diversity of the list demonstrates how no individual performer has a monopoly on the tag 'bling'.
50 Cent is the only person to have two solo entries in the list, while the ten entries are taken from a 17-year span. Given that you'd expect budgets and production values to have increased through the 21st century, that time span is perhaps surprising. You'd be forgiven for thinking that the desire to show off bling would be a response to the Instagram generation, but Nelly was going big even way back in 2002.
So, how did Lil Wayne cram £13.2 million ($16 million) of bling into one music video?
A significant part of that would be the £12.5 million ($15.2 million) house used in the video, with Lil Wayne borrowing Gavin Maloof's Las Vegas home for its location. That means real estate accounts for around 94% of the overall bling, although the £400,000 ($486,000) worth of jewelry and £125,000 ($152,000) worth of vehicles aren't exactly bargain bucket material.
Finally, we have an answer to the question that 21 Savage posed in his song 'a lot'. The song frequently asks "how much money you got?" – in the case of the music video, it turns out to be just shy of £7.2 million (which probably does qualify as 'a lot'). Again, the bulk of the bling shown in 21 Savage's video is real estate. While being able to perform in a mansion is a fair indication of wealth, the most memorable part of a music video is often the automobiles.
There are countless music videos across all genres that prominently feature cars, but not just any whip will do for the rappers on the BlingDex.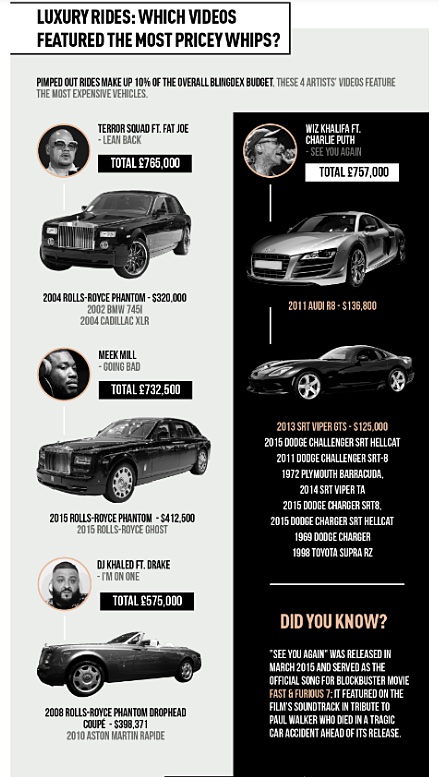 These are the types of cars that would make you stop and stare on the street, so that makes them perfect for inclusion in a rap music video. This is a world away from the more stripped-back vibe of 'Old Town Road'. Lil Nas X's song has broken chart records, having become the longest-running number one in US history, but its video won't be troubling any of those in the BlingDex.
It will be interesting to look back on this in ten years and see if rappers have continued to bring the bling to their videos, or if there is a new style of video that dominates. For now, Lil Wayne remains the king of the bling.