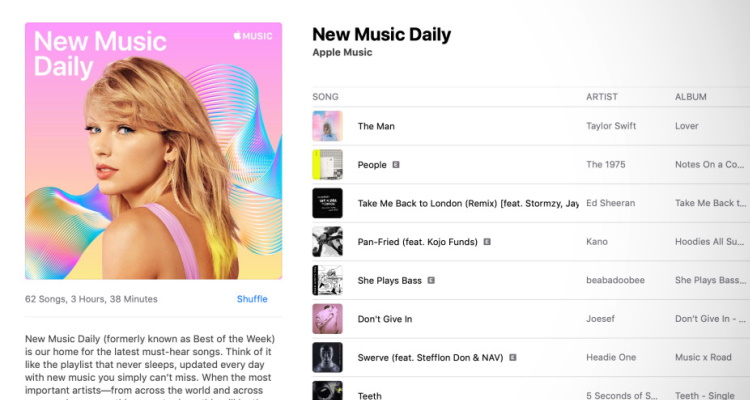 Apple Music has launched a new human-curated playlist that updates on the daily.
The new playlist is called New Music Daily, and it aims to provide a look at the newest tracks in music. The debut lead single for the playlist is Taylor Swift's "The Man," from her brand-new album, Lover.
Apple will likely use the new playlist as a way to promote lead artists on a rolling basis.
The long-time playlist Best of the Week will cease to be now that New Music Daily is here. The old playlist was updated once a week on Friday. The new list will be updated daily with "new music you can't miss from across the world and genres."
The result is a more dynamic mix of tunes that will refresh daily. You can add the playlist to your library for automatic updates as the list changes. Apple Music currently offers a 3-month free trial if you don't use the service, with Spotify recently matching the generous 90-day term.
But Apple is still far behind Spotify in terms of subscribers, and playlists offer one way to catch up. New Apple Music playlists like Rap Life and ALT CTRL have launched to compete with Spotify's branded playlists. A big part of Spotify's success can be attributed to the popularity of its playlists
like Rap Caviar
.
But playlists are only one theater in this war. The two streaming giants have duked it out in the past with
exclusive content
and
podcasts
. Both services offer a bevy of exclusive music content and podcasts to entice users, though major labels like UMG have put the kibosh on restrictive exclusives.
Apple recently debuted a Shazam discovery playlist that features the most searched for songs using the Shazam service. Count that as another unique playlist that sets Apple Music apart from other services.
Despite a proliferation of smart tastemaking algorithms, many listeners prefer the human-curated touch of a playlist, which is supposed to be an intensely personal thing. Even Apple has taken shots at Spotify for its algorithm-driven playlist selection, though it
recently joined in
.