Despite the bad blood between Scooter Braun and Taylor Swift — or perhaps because of it — Braun congratulated the singer on her latest album.
Braun made headlines after purchasing Big Machine Label Group, which stores the ultra-valuable recording catalog of Taylor Swift.   The deal was rumored to be worth $300 million and was orchestrated through Braun's company, Ithaca Holdings, a move that enraged Swift.
In the moments after the deal, we quickly learned that Taylor Swift absolutely hates Scooter Braun.  Suddenly, Braun became Swift's next ex-boyfriend, or some variation thereof, always an unenviable role.
Swift took to Tumblr back in July to air her grievances about the deal, lamenting about the raw deal that took place.  "Essentially, my musical legacy is about to lie in the hands of someone who tried to dismantle it," she wrote.
Now, Braun is taking the high road by praising Swift's recent album campaign on Twitter.
"Regardless of what has been said the truth is you don't make big bets unless you are a believer and always have been. Brilliant album with #Lover," he wrote. "Congrats @taylorswift13. Supporting was always the healthier option."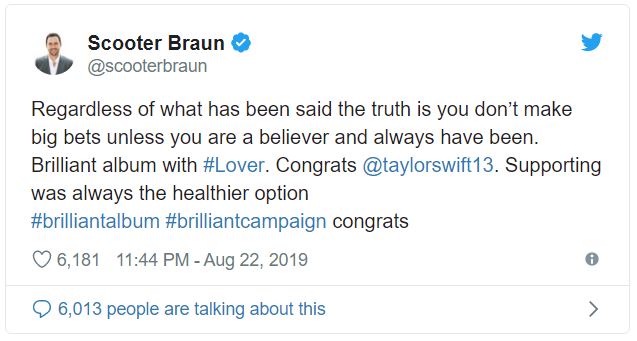 Lover is Swift's seventh studio album and one that she owns exclusively. Now, Swift has confirmed her plans to re-record and re-release all of her earlier albums to regain her IP.
At first, a move to re-record seemed out of the realm of possibility.  But apparently Swift's contract states that from November 2020 she can start re-recording all of her earlier albums.  Accordingly, Swift will re-record her first five albums to help take some of the wind out of Braun's newly acquired IP.
Swift has been extremely vocal about the treatment she received from Big Machine founder
Scott Borchetta
and Braun. Now, the re-recording option offers a nice, high-profile game of payback, with Braun himself standing to lose hundreds of millions in long-term equity as Swift dilutes her catalog with duplicates.
The specter of earlier and later versions sitting side-by-side on platforms like Spotify — with Swift urging her fans to listen to the latter — is a nightmare scenario for Braun and his investors. Whether litigation is the next step is uncertain, though Braun and Ithaca may also attempt to cancel the deal with Big Machine given the prospect of extreme asset devaluation.
Swift is one of the best-selling artists of all time.
During her career, she has sold over 150 million singles and 50 million albums. She has 10 Grammy Awards under her belt, with countless other accolades. Time Magazine has named her one of the most influential people of the year on multiple occasions.
Most recently, Swift has advocated for
LGBT organizations
and has begun voicing her political opinions after years of shying away from it.  Any way you look at it, Swift wields a lot of power — including the power to drastically complicate life for Scooter Braun.