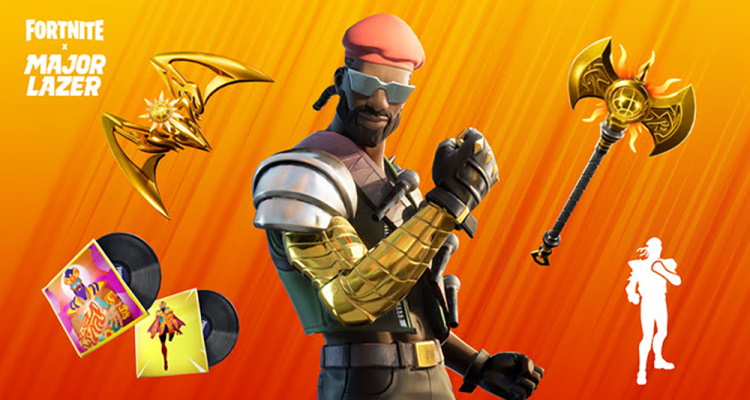 Fortnite's latest music collaboration just dropped, featuring music remixes from Major Lazer.  Is an in-game concert next?
Major Lazer is an EDM group that includes Diplo, Walshy Fire, and Ape Drums.  Fortnite partnered with the group to release remixes of the "Default Vibe" and "Default Fire" lobby music.  You can listen to those two new collabs below.
To help celebrate the remix, players could download a time-limited set of items. The items included dark shades, a gold plated arm, and several new weapons and stickers.
The partnership with Major Lazer expands on Fortnite's intersection with the EDM community earlier this year.
In February, Marshmello held an in-game concert that drew over 11 million viewers. To celebrate that event, Epic released a Marshmello skin styled after the EDM artist's stage costume. The performance helped the EDM artist land a Las Vegas residency.
Fortnite has been cemented into pop culture as the most popular game in the world. Epic Games has partnered with Marvel and Netflix for Avengers and 'Stranger Things' promotions, too.
The Major Lazer bundle set gamers back 2,325 V-Bucks or $23.25 USD.  The limited-time promotion was only available until Sunday night. The item set has disappeared from Fortnite's main store, but you can still hear the remixed tracks in-game.
Perhaps we'll see an in-game concert with Major Lazer soon?  Nothing has been announced so far, but it wouldn't surprise me if Epic wants a repeat of the Marshmello concert.
Revenue for Fortnite fell 40% from 2018, but the game is still a massive cash cow.
Fortnite pulled in $203 million in the month of May alone. Those stats make it the highest-grossing game on console and fifth-highest on PC, behind League of Legends.
Limited-time promotions like the Major Lazer event inspire former players to log back in. That helps keep Epic's numbers high — and it also helps that no other battle royale game has been as successful in the space.