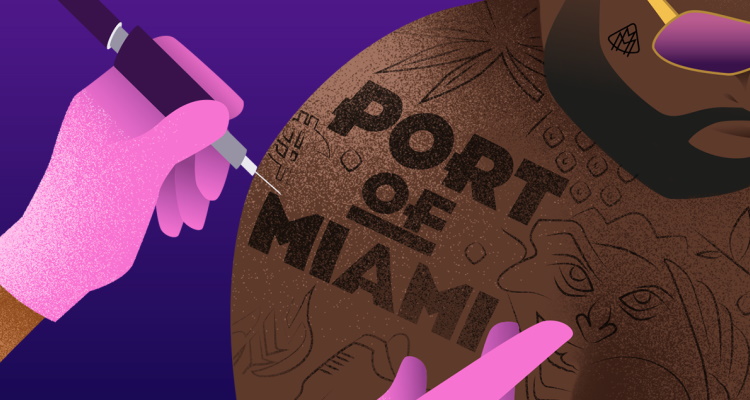 Rapper Rick Ross has launched a new Facebook Instant Game tie-in with his latest album, Port of Miami 2.  Sony Music says it's the first of its kind.
The game itself isn't exactly revolutionary.  But Sony Music says it's the first artist-focused Facebook Instant Game, part of Facebook's new gaming tab.  So maybe it's the start of a trend for artists and labels.
In a nutshell, Port of Miami 2: Born to Drive is all about cruising through Miami's beaches and racking up points. Players must collect gold chains, Rolexes, and chicken wings to reach the next level. The game is available directly in the Facebook Games tab.
The in-game soundtrack comes directly from Port of Miami 2, which features in-game billboards promoting the album. Every stage of the game is more difficult than the last as Ross' low-rider goes faster and faster through rush hour traffic.
The game was conceptualized by Sony Music UK's 4th Floor Creative, Columbia UK, and digital creative agency PHANTOM.
The idea behind the game is to give fans a taste of what it might be like to cruise around Miami. Rick Ross is a Miami native and often features the city in his music. The overall aesthetic of the game takes hints from the 80s, and video game hits like GTA: Vice City.
Port of Miami 2 is a sequel to Ross' 2006 album of the same name. Recent singles like "Act a Fool" and "Gold Roses" have racked up over 20 million streams. Collaborations on the album read like a who's who of American rappers.
Rick Ross will embark on a 14-date North American tour in support of the album. The tour starts September 23rd and has already been advertised heavily in the US with an ESPN takeover. Ross also recently featured on The Tonight Show with Jimmy Fallon.
Rick Ross is hardly the first artist to turn to mobile games as a form of promotion.
Just recently, BTS World launched to celebrate the K-pop band's most recent album with tons of fanfare. Mobile games account for 47% of the $134 billion games market, so expect to see more of these lucrative promotional games pop up.