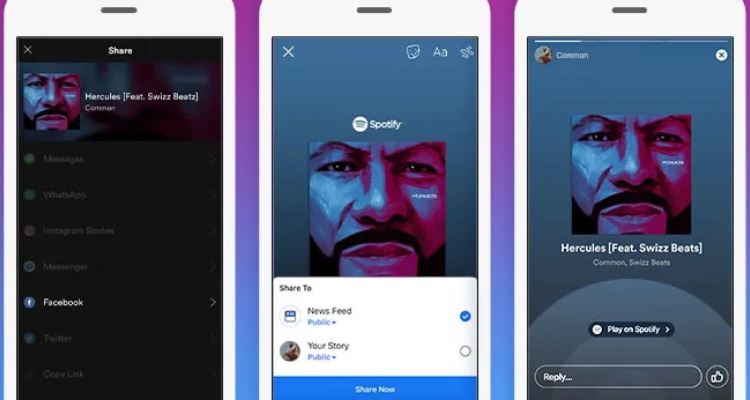 Spotify is re-introducing a way to share music through Facebook Stories.
The new Facebook Stories integration includes 15-second song previews for viewers. The viewer can tap the "Play on Spotify" button in the story to open the Spotify app. Spotify says the feature is designed mostly with artists and their teams in mind. It gives them another avenue to share new hits across Facebook.
It's unclear how potent this sharing vehicle will be for artists, though a lot depends on whether a group's fans are using Facebook.  Spotify, of course, is touting the big benefits.
"Taking advantage of our sharing features helps to get your tunes to more people's ears. It will also encourage your fans to interact with you and your music and help spread the love through their own Facebook Stories. Try it out for your next release or a special anniversary, or to simply step up your daily storytelling—because every story, even a 15-second one, deserves a proper soundtrack."
Last year, Spotify introduced the music sharing feature for Instagram Stories.  Albums, tracks, and playlists now are available on both Instagram and Facebook Stories.
It looks like Spotify's integration with Instagram Stories has bolstered both platforms, with increased engagement on users' Stories and traffic flowing back to Spotify.
As for the mainline Facebook integration, users can activate the new feature by tapping the Share button in the Spotify app and choosing Facebook as the destination. Users can then customize the story using editing tools. Viewers get to see the 15-second song clip and can tap to see more.
This isn't the first time Spotify has experimented with adding sharing features to Facebook.
Earlier this year users reported issues sharing their favorite songs to Facebook Stories. The official Spotify customer care Twitter account confirmed the "Share to Facebook Stories" feature was no longer supported in January 2019.
The reignited feature is definitely designed to capitalize on the popularity of musical sharing from apps like TikTok.
Only individual songs feature a musical preview for visitors. Sharing albums, playlists, or an artist profile page to Facebook will not have a preview.