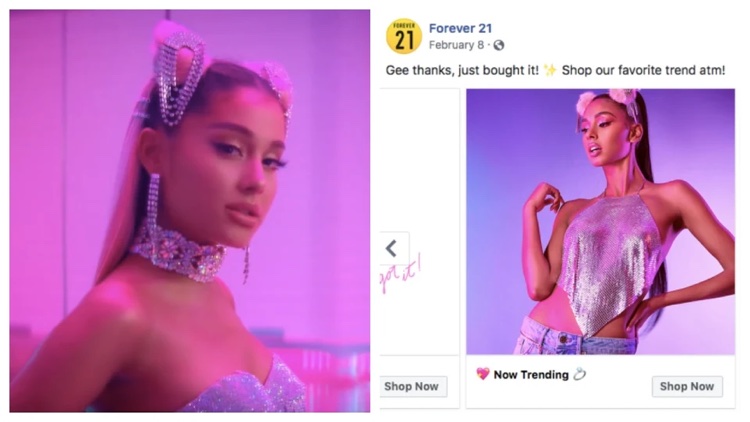 Forever 21 balked at the price tag of an Ariana Grande sponsorship.  But did they break the law by creating a lookalike campaign?
It seems that not a day goes by without a pop star suing someone, or someone suing a pop star.  Now, it's Ariana Grande's turn.  The music superstar is suing clothing retailer Forever 21 over their use of a model on social media that looks like her.
Grande and her legal representatives filed the suit in a California U.S. District Court and are seeking minimally $10 million in damages, saying that Forever 21 violated various California laws.
According to the suit, Forever 21 actually sought an endorsement deal with the singer in coordination with the release of her album thank u, next, which was released in February of this year.  The suit further alleges that the endorsement deal was to be focused on social media, specifically on posts to both Instagram and Twitter, and when the retailer balked at the 6-figure price Grande demanded, they instead used a lookalike model.
The alleged misuse took place during January and February of this year and entailed Forever 21 publishing more than two dozen images and videos on both social media and their own website that misappropriated Ariana Grande's brand to create a perception that Grande was endorsing the company's products.
This included not only having a model that looked like Grande, but also one who had a similar hair style that Grande featured in the video for her song, "7 Rings."  The lawsuit further alleges that the model also dressed like Grande and posed in a way Grande is known to pose, and that music and lyrics from "7 Rings" were included in the posts as well.
"The resemblance is uncanny and Forever 21's intent was clear: to suggest to the viewing public that Ms. Grande endorsed Forever 21, its products, and was affiliated with Forever 21," the lawsuit states.
Sounds like a stretch, especially since this model isn't a spitting image of Grande.  She sort of looks like Grande, and is definitely assuming Grande's style.  But this lawsuit alleges that Forever 21 essentially faked an Ariana Grande endorsement, even though they refused to pay for one.
This isn't the first time a celebrity has sued over a lookalike. Kim Kardashian once sued The Gap for using her likeness in an advertisement.  That case was eventually settled out of court.
Ariana Grande is one of the biggest music stars in the world, with 30 billion streams to her credit.  Beyond her music, Grande's brand is powerful and globally recognized.  Still, it's unclear if looking like Grande, imitating her style, of even posting her music and lyrics constitutes a legal violation.