Sales of vinyl records are likely to overtake CDs for the first time since 1986.
Last week, we reported on a healthy boom in first-half streaming numbers for the U.S.-based recorded music industry.  But digging deeper into the physical sales story, an interesting figure emerges.
Vinyl record sales have been steadily growing for more than a decade, despite constant predictions of a fad. Now, a mid-year report from the RIAA suggests that CD sales are likely to shrink below vinyl sales in the coming quarters. Earlier this year in February, the RIAA confirmed that vinyl sales account for one-third of the revenue from physical sales.
The RIAA's 2019 mid-year report was released on Thursday and first reported by Digital Music News. It revealed that vinyl record sales were responsible for generating $224.1 million in sales on 8.6 million units. That's compared to $247.9 million on 18.6 million CD sales.
Vinyl revenue grew by 12.8% in the second half of 2018 and 12.9% in the first half of 2019.
Meanwhile, revenues from CD sales have barely moved from their 2018 numbers. In total, CDs accounted for roughly 5% of U.S.-based totals, despite some signs of a flattening out.  But the math looks pretty simple here.  Pretty soon, vinyl record sales will surpass revenue from CDs.
But what about a CD bounceback? That's entirely possible. Tellingly, CD unit sales remained flat year-over-year, suggesting a bottoming out of CDs in the U.S. market. But there's also an unexpected success story from Tool, whose $45 CD album release drew enormous crowds at local record stores last week.  We're still waiting on the numbers on that recent release.
Outside of the U.S., there are also some interesting CD growth stories emerging. K-pop album sales are way up thanks to their collectible nature among fans who treat them like trading cards, particularly in markets like Japan and South Korea.
While vinyl continues to see dominance in the physical world, that is dwarfed by streaming. Vinyl records account for only 4% of total revenues in the first half of 2019. Paid subscriptions and streaming services generated 62% of music industry revenues. Customized radio services like SiriusXM and internet radio have also gained traction.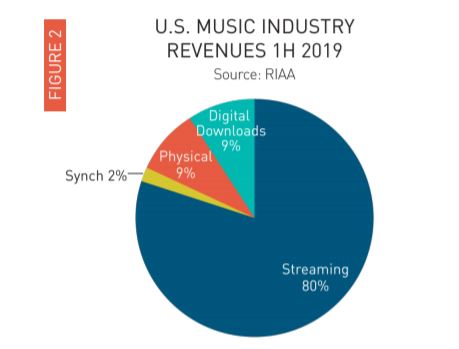 In the U.S. alone, streaming accounted for 80% of the music industry's revenues in 2019. Physical sales and digital downloads both account for less than 10% each. Digital downloads are falling in the face of music streaming, too.
The vinyl resurgence has helped many artists stay relevant or gain a foothold in the industry. Classic rock groups like Fleetwood Mac, Led Zeppelin, and Queen all sold over 100,000 albums in 2018. The Beatles top the charts with a whopping 300,000 albums sold in 2018.
Modern artists are embracing the vinyl format by offering limited edition pre-orders for their albums. K-pop album sales are way up thanks to their collectible nature among fans who treat them like trading cards.