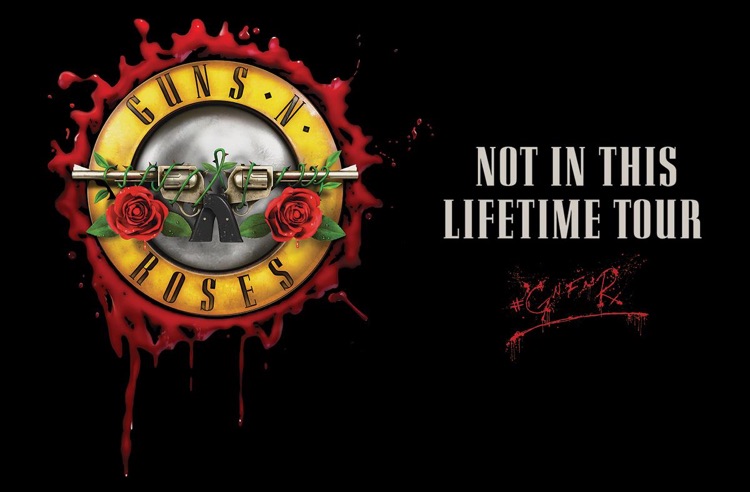 Guns n' Roses recently revealed that the fall leg of their ongoing tour, Not In This Lifetime, will come with nine separate—and very different—opening acts.
The band will make 15 stops between the end of September and the beginning of November, with events planned for Las Vegas, Utah, Louisiana, Nebraska, Kansas, Texas, Kentucky, North Carolina, Tennessee, Florida, and Mexico.
Nine artists/bands will open for Guns n' Roses: Shooter Jennings, Ice Cube, The Raconteurs, Bishop Gunn, Deftones, Blackberry Smoke, Tyler Bryant and The Shakedown, Brandi Carlie, and Dirty Honey. The Raconteurs, Ice Cube, and Brandi Carlie will open for Guns n' Roses as part of music festivals, however.
Not In This Lifetime started in 2016, and three years later, it isn't showing any signs at all of slowing down.
The expansive concert series marks the first time since 1993 that Guns n' Roses members Axl Rose, Slash, and Duff McKagan have performed together. The tour has grossed nearly $600 million, with the band having made stops all around the United States and in Canada, Mexico, Peru, Chile, Argentina, Brazil, Costa Rica, Singapore, the United Arab Emirates, Russia, and most of Europe, amongst other destinations.
Skrillex, Alice Cooper, Marky Ramone, The Who, Baby Metal, and several other bands, of various genres, have appeared with Guns n' Roses on the Not In This Lifetime Tour. One would be hard-pressed to think of another band whose fans are accommodating enough to enjoy performances from such a variety of groups.  But perhaps this is the beginning of a larger trend by mega-artists.
Both The Rolling Stones and Guns n' Roses are diversifying their opening performances and showcasing new talent, while also keeping fans on their toes.  Let's see if other mega-tours follow suit.
Incidentally, the expansion in opening acts may also be motivated by festival competition.  Effectively, bands like the Stones and Gn'R create the giant tent, with other bands filling in the variety and extra entertainment.  All of a sudden, this is the furthest thing from a one-act show.  Indeed, the Guns n' Roses leg is actually merging with a few festivals on its itinerary.
Not In This Lifetime has been extended several times, and it's possible that Gn'R will continue the concert series after November 2nd, when it's scheduled to end.