Martina McBride is asking some serious questions about Spotify's recommendations algorithm.
McBride says she decided to make a playlist called "Country Music" on Spotify.  Spotify populates recommendations for songs on playlists, based on songs that you've added.  McBride praised Sara Evans' 'I Learned That From You' and used it as the seed song for her playlist. But all of the recommendations that followed were from male country artists.
McBride says it took over 14 refreshes of the recommendations page for a female artist to appear.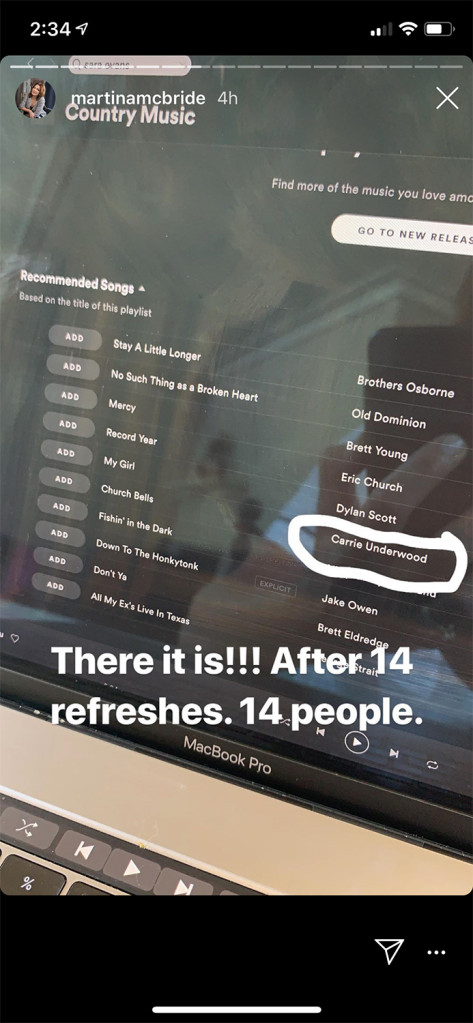 The singer cites new albums and singers from artists like Tanya Tucker, the Highwoman, Kelsea Ballerini, Sheryl Crow, and Trisha Yearwood.  She even drew comparisons to Apple's A-List Country playlist, where many more women were featured.
Apple featured 13 out of 65 or 20% of the top songs from female artists.  But Spotify's recommendation engine is separate from curated playlists, so the comparison doesn't really strike home here.  In fairness, Spotify's own Hot Country playlist also features 13 songs from women.
"Is it lazy? Is it discriminatory? I'm not doing this for me obviously — I'm sure I won't show up on any recommendations anytime soon after today. I'm frustrated for my sisters. For all the great female artists who are making fabulous music. For all the female writers. And most of all, for every little girl out there who doesn't hear this music and doesn't know that she can grow up and do it."
Martina McBride inquired directly about what Spotify is doing to see these results changed. She says she's frustrated and wants to see something done about it.  But the singer seemed singularly focused on Spotify as the culprit, even if listeners are the ones driving the algorithmic results.
Just recently, Apple took Spotify to task for relying on algorithms for its recommendations, before it quietly started doing the same thing.  Both platforms feature a blend of human-curated and algorithmically-generated playlists and recommendations.