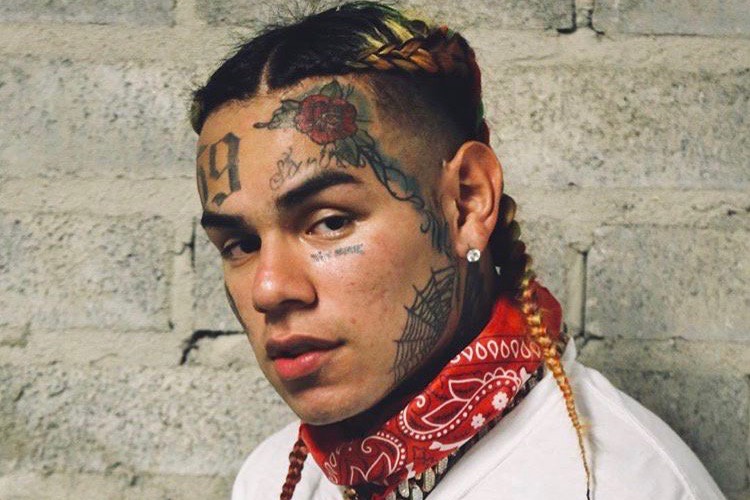 Earlier this week, rapper Tekashi 6ix9ine testified in federal court against alleged members of the Nine Trey Gangsta Bloods gang, which may eventually require him to enter a witness protection program.
But if Tekashi 6ix9ine, whose real name is Daniel Hernandez, was unnerved by this, he certainly wasn't showing it.  He even bopped his head along to his own music when it was played in court.
The rapper testified against Aljermiah "Nuke" Mack and Anthony "Harv" Ellison, who are both members of Nine Trey Gangsta Bloods and former associates of Tekashi 6ix9ine. Mack is accused of dealing drugs such as fentanyl, heroin, and ecstasy while Ellison is facing charges of robbing and kidnapping Tekashi. The latter allegedly did this at gunpoint back in July of last year.
During Tekashi's testimony, prosecutors played music videos from two of his songs: "Kooda" and "Gummo." This was so the rapper could point out alleged gang members in the videos, and this is when the rapper began bopping to his own songs.
Tekashi further indicated that, prior to the production of the video for "Gummo," he asked members of Nine Trey Gangsta Bloods to participate.  He did this because he wanted them to be part of the video's "aesthetic."
In the lengthy testimony, 6ix9ine also revealed a core insight into rap marketing — at least the modern variation of 'gangsta rap'.
"I knew the formula was to repeat the gang image," Hernandez said.  "That's what people like."
Interestingly, prosecutors gave the jurors in the trial transcripts of the lyrics for "Gummo," which Tekashi said were meant to disrespect fellow rapper Trippie Redd, who is allegedly a member of an offshoot of Nine Trey Gangsta Bloods called Five Nine Brims. Both Tekashi 6ix9ine and Trippie Redd have been signed to Caroline/UMG.
As part of his testimony, Tekashi told the court that he decided to cooperate with federal prosecutors within a day of authorities arresting him and the others.  That led to a wave of criticism; Snoop Dogg flat-out called Hernandez a "snitch".
Years ago, Tekashi 6ix9ine was working in a grocery store in Brooklyn, New York when a customer told him he had the right look to become a rapper. This led to the making of "Gummo" in 2017.