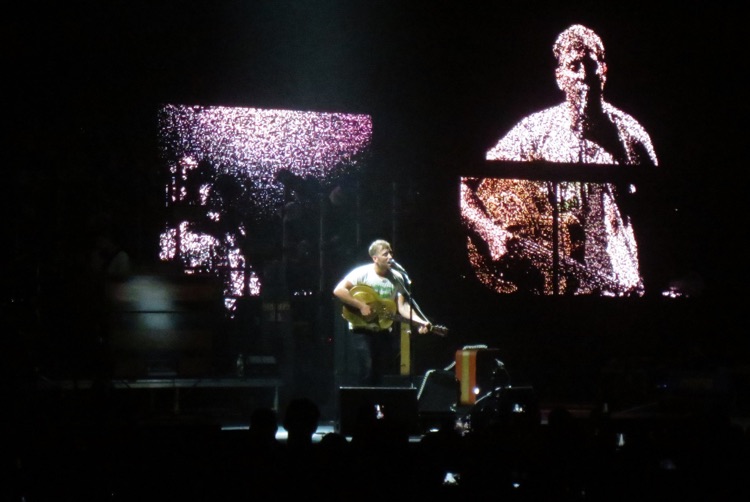 The Black Keys punished hundreds of fans who purchased tickets from secondary ticketing sites to their opening show in LA.
The scene at LA's Wiltern Theatre last Thursday was one of chaos mixed with anger and disappointment.  Fans paying hundreds of dollars to see the Black Keys were shut out and refused entry, while those purchasing tickets directly from the band's fan site were ushered in.
Just one problem: it wasn't entirely clear that those were the rules.
The Los Angeles Times documented Beatriz Zaragoza and her two children, who collectively paid $700+ on StubHub to see their favorite group — not including expensive parking, dinner, and other customary expenses.  Zaragoza's son was crying as they were locked out of the show.
"Why did the band do this?" he asked.
Others were also shut out, with hundreds on the phone with customer support for StubHub, Vivid Seats, Ticketmaster, and SeatGeek demanding answers.  Pissed-off fans took pictures of a large crowd hovering around the venue.  Many were simply on interminable hold just minutes before showtime.  Ultimately, the show started without them.
Various reports pointed to hundreds of fans left in the lurch, with many paying hundreds of dollars for worthless tickets. The staff at the Wiltern were reportedly being completely rude to confused ticket-holding fans.  Some apparently got in, while others went home in frustration.  Few seemed to understand what was going on.
"We were turned away," fan Sherry Sabety (@SSabety) blasted on Twitter, complete with video of the chaotic scene outside.  "Apparently the rotating ticket policy was put into effect 40 min. before showtime. And people were being treated like garbage by the staff."
Live Nation and its ticketing subsidiary, Ticketmaster, quickly blamed 'bad actors' for the disaster.
But they also shifted the source of the issue onto the Black Keys, who tried — rather unsuccessfully — to shut out all secondary ticket sellers.
"The presenters of the concert directed that these tickets be made available only to fans and that they be strictly nontransferable," Ticketmaster stated. "This was messaged from the beginning with the announcement of the performance and throughout the sales process. Unfortunately, bad actors took advantage of this situation and posted screen shots of tickets that were not valid for entry onto the secondary market. We always recommend purchasing tickets from the official source."
Ticketmaster reiterated that everyone who purchased through the Ticketmaster site got into the show. But at this stage, it's unclear if any tickets were shuttled into Ticketmaster's own secondary ticketing site, TicketsNow.
The Black Keys have now also responded — and notably, haven't apologized.
"[Thursday night's] concert tickets were $25 and geared toward the fan club," the band emailed. "This was our first show in over four years and the kickoff of the Let's Rock Tour. Because we were playing a venue far smaller than the rest of the venues on the tour as a warmup show, we turned off ticket transferability to ensure that our fans got in the door at the low ticket prices we set for them."
"Unfortunately, scalpers took this opportunity to defraud our fans and steal their money by selling tickets that were ineligible for transfer on scalper sites."
Fans locked out of the gig weren't offered anything, including tickets to an upcoming show.  Refunds weren't even mentioned.
Meanwhile, secondary ticket sites are crying foul.
They claim there wasn't a clear notification that tickets were non-transferable.  Fans, unfortunately, also appeared none-the-wiser.