These days, LL Cool J is probably better known for his role on NCIS: Los Angeles than his rap career.  But over the weekend, the rapper took to Twitter to correct a few misconceptions about some of his most confusing lyrics.
"Let's end the debate. All the lyric sites have it wrong," the rapper tweeted on Friday.  He even used emoji to make the lyrics clearer.
Here's the video for Headsprung so you can hear it for yourself.
And LL Cool J's self-corrected lyrics he tweeted: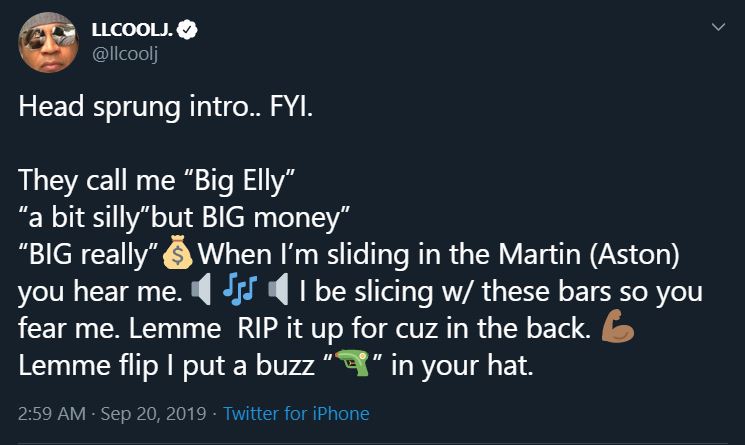 They call me "Big Elly"
"a bit silly" but BIG money"
"BIG really" When I'm sliding in the Martin (Aston)
you hear me. I be slicing w/ these bars so you
fear me. Lemme RIP it up for cuz in the back.
Lemme flip I put a buzz " " in your hat.
After dropping that correction, the rapper returned a few hours later with a new one. He posted his lyrics for "Flava In Ya Ear (Remix)" to clear up the misquoted intro verse.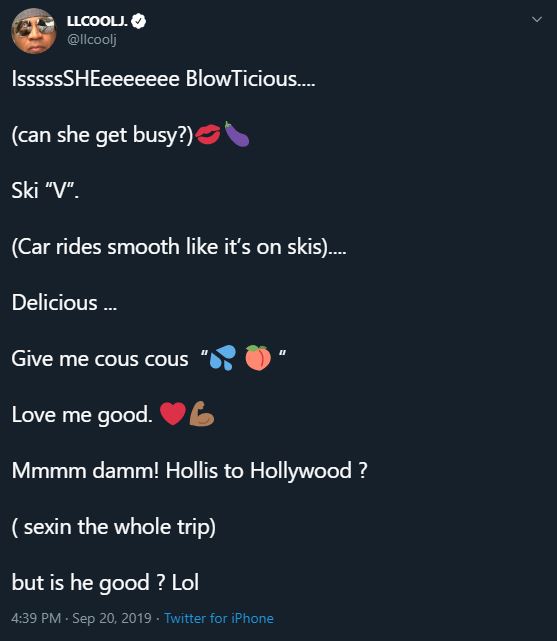 IsssssSHEeeee BlowTicious…
(can she get busy?)
Ski "V".
(car rides smooth like it's on skis)…
Delicious…
Give me cous cous
Love me good.
Mmmm damn! Hollis to Hollywood ?
(sexin the whole trip)
but is he good?
Most fans reaction to the revelation online were positive. One called the intro to Flava "the most confusing lyrics in hip-hop history." Others asked for clarifications on some of LL Cool J's other songs like, "Pink Cookies In A Plastic Bag Getting Crushed By Buildings."
Others tweeted out screenshots of lyrics from Apple Music, showcasing just how wrong they are. Most music sites hire third-party companies like LyricFind to provide lyrics.
After the copying fiasco that went on this summer, can these sites really be trusted to present accurate info? Here's an artist saying that no one heard him right — decades after his songs were topping the charts.  Yet the "official" lyrics are still wrong.