Yesterday Amazon unveiled a ton of new Echo devices, including the Echo Buds. Among several other oddities is a new high-end Echo speaker.
The $130 Echo Buds feature active noise cancellation from Bose and are poised to rival AirPods. The other two products are by invite-only for now. Echo Buds will start shipping in time for the crucial holiday season.
Amazon dominates the smart speaker category in the US, with 70% of homes using an Echo device.  Now, Echo Buds are proof that Amazon is ready to take Alexa outside the home.  But this is just one out-of-home experience: earlier this year, Ford and Toyota announced that they would integrate Alexa. General Motors also got on board at the event yesterday.
Amazon is also acutely aware that some people are resistant to digital assistants due to privacy concerns. During the event, they announced Alexa recordings can now be deleted on a three-month or eight-month rolling basis.
Amazon's first 'high-end' smart speaker is the Echo Studio. Amazon says the device can deliver serious audio quality to complement its new Amazon Music HD service. Amazon Music is the first major service to take HD streaming seriously. It's also the first voice-enabled speaker to support Dolby Atmos.
The Echo Studio takes aim squarely at Sonos' new line of high-end smart speakers. It's available for $200 and will ship on November 7th. The attractive price is around $100 less than anything Google or Apple offers and is $300 cheaper than Sonos.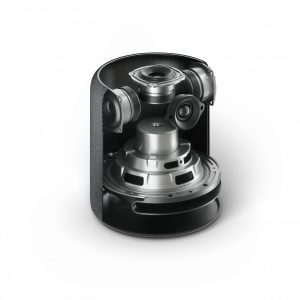 The Echo Studio features a 330W amp with a 5.25-inch woofer and three 2-inch mid-range drivers. It also features a 1-inch tweeter. Amazon showed the guts of the Echo Studio on stage during their presentation. The squawker arrangement helps the Echo Show achieve the 3D effects touted.
The device supports up to 24-bit, 192kHz audio and has seven built-in microphones. Those microphones can help adjust the speakers' automatic sound tuning.